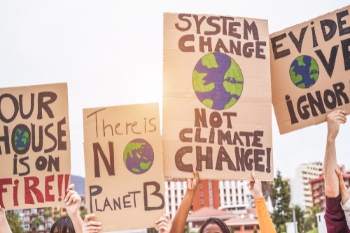 Local authorities across London have called on the Government to champion the role of councils in tackling the climate crisis after the UN warned that climate change was 'widespread, rapid, and intensifying'.
The latest Intergovernmental Panel on Climate Change (IPCC) Report, published on Monday, warned that unless there are 'immediate, rapid and large-scale reductions in greenhouse gas emissions', limiting warming to close to 1.5°C or even 2°C will be beyond reach.
Responding to the report, Mayor Philip Glanville, chair of London Councils' Transport and Environment Committee, urged the Government to give local authorities more resources and powers to tackle climate change and its effects.
'This report is a stark warning that the time to act is now,' he said.
'London boroughs are already supporting local residents and businesses in their ambitions to decrease harmful carbon emissions and build greater resilience to climate change. This includes delivering active travel campaigns and powering buildings using 100% renewable energy.
'But we need Government to champion the role local councils are playing in achieving national climate goals. London boroughs are ready and determined to do all we can, but we need a framework and resources to deliver on the scale of the emergency that the science sets out.
'Our priorities include ensuring we make a just transition to a zero carbon future, and collaborating with government and local communities to create effective place-based responses that reflect the views and concerns of our communities.'
He added: 'It is essential we build a sustainable future for our city and contribute to tackling the global climate emergency. Boroughs are committed to putting our diverse communities at the heart of finding solutions to the biggest challenge of our lifetime.'