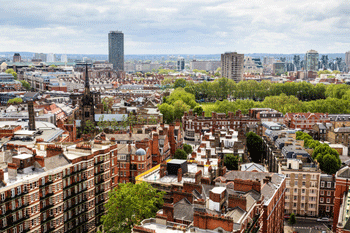 A new Government plan aimed at helping Londoners into home ownership was launched today.
Communities secretary Greg Clark announced that Londoners would be able to buy a home with a 5% deposit and a mortgage as low as 55% under the London Help to Buy scheme.
First-time buyers and second-steppers will get the opportunity to own a new home in the capital with a deposit backed by a 40% equity loan from the Government that is interest free for the first five years.
London Help to Buy is an extension of the Help to Buy scheme that has helped 130,000 people across the country since 2013.
Since 2010 the Government says it has helped more than 270,000 people into home ownership thanks to the introduction of government schemes including Right to Buy and Help to Buy.
Greg Clark said: 'Our multi-billion pound investment will open the door to thousands of Londoners wanting to own their own home, following in the footsteps of nearly 270,000 people who have already bought through government-backed schemes.
'And now with the improved Help to Buy scheme launching in London, I would urge anyone who thinks home ownership is out of reach to look again at the help on offer.'
Housing minister Brandon Lewis said: '[Help to Buy] is helping people turn those dreams into a reality, with a fraction of a deposit they would normally require, and from today the new London scheme will help even more people follow in their footsteps.'