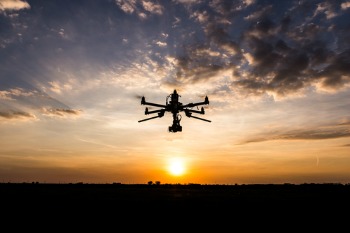 As the UK works towards its 2050 net-zero goal, and responds to the demand for improved mobility, the government is exploring the potential for a massive increase in the use of drones and small passenger aircraft (air taxis) on a day-to-day basis. These aircraft will use electrification technologies and increasing levels of autonomy to provide cost effective, non-invasive, agile services to local communities.
These vehicles could fly from building-to-building within dense cities providing on-demand transport, provide regional connectivity to remote communities or replace last-mile parcel deliveries. Aircraft technologies alone will not realise such a vision. Infrastructure and air management skills will be needed at a local level, and local authorities need to start planning today for vital local services being provided by air.
In addition to making a material difference to the UK's clean growth targets the increase in smaller, lower altitude aircraft in cities and rural areas will have a noticeable impact on everyday life and on the planning and logistical operations carried out by local services and councils. Local authorities will have to regulate and control the use of the air as drones and air-taxis become responsible for shifting more and more goods and take over some kinds of regular, everyday travel from cars, buses and trains.
A shift in attitude will be required at all levels. The public at large may have reservations about more busy skies, aircraft operating close to buildings and noise. Managers and local officials running services will have to factor the new means of transportation into their plans and ensure local benefits are delivered in a controlled manner.
In order for local authorities to fully embrace airborne services three key steps must be made. Firstly, local councils must decide how best to regulate these services. While some aspects of this can be handled by the Civil Aviation Authority, there will likely be local issues on flight routings, times of operation and regulation of the market for air taxis. Today there are no clear standards or approaches for these new services, so the time to start planning for the new systems to deal with these issues is now.
Next, local councils must also engage with key stakeholders to integrate novel aircraft and services into everyday life. Handled properly these could solve local problems, for example, by allowing for the faster transport of medical samples or reducing regional transport times, and be a real boost to the local economy. But early local engagement will be essential to ensure public support, properly address legitimate concerns such as local aircraft noise and avoid a technology backlash.
Finally, local councils must engage in the planning and development of physical and digital infrastructure. Exciting ideas include 'vertical airports' in city centres, to save space but we have few existing examples of these currently to inform architects and planners. The new kinds of air transport will also need to be integrated into multi-modal transport timetabling, which constitutes a sizeable challenge. This could even be an opportunity to bring local aerodromes back to life.
It is crucial that we start to prepare the ground for these significant changes to our cities and transport networks. One way in which this is currently being done is through the government's £300m Future Flight Challenge run by UK Research and Innovation (UKRI). This offers an opportunity to develop aviation innovations and explore the potential of novel airborne services whilst ensuring that UK innovators are best placed to develop these key technologies and apply them to our society.
The challenge is run by UKRI, an organisation that directs research and innovation funding on behalf of the UK government. Innovators are encouraged to form consortia to tackle the broad-based challenges and focus on real-world demonstrations of techniques and technologies. This means that the local issues described above are very much in scope. Many organisations will be looking to choose UK locations for such service demonstration so there is a huge opportunity for local authorities to participate in consortia to help shape the future of flexible aviation. Two local authorities are represented on the Future Flight Advisory Group, but even greater engagement and active participation is welcomed by the challenge team.
To find out more information about the Future of Flight challenge click here
Gary Cutts, Challenge Director, Future Flight, UK Research and Innovation