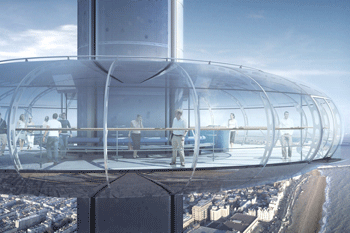 Brighton and Hove City Council has agreed a deal to finance a new £36.2m seafront landmark built by the creators of the London Eye.
The deal, using finance from the Public Works Loan Board, will see the local authority receive more than £1m a year in interest payments and business rates.
Its deal with Brighton i360 Ltd, which will build the 160-metre high observation tower adjacent to the city's derelict West Pier, is expected to create more than 440 permanent jobs and includes 1% of ticket sales in perpetuity.
The total cost of the project is £46.2m with the remainder coming from a £6m investment by architects David Marks and Julia Barfield – designers of i360 – and a £4m loan from Coast to Capital Local Enterprise Partnership.
Council leader Jason Kitcat said the loan agreement was 'the cornerstone to funding the regeneration of Brighton's seafront' with i360 expected to boost the local economy by £25m a year as a result of an estimated 700,000 extra visitors.
In a statement, the council said: 'No council tax money is being used to fund this. The profit on the interest from the loan plus business rates will earn the council over £1m per year at a time of public cuts. All this money will be reinvested in the city. Any additional monies generated by the project will be returned to the council to accelerate the loan repayment. '