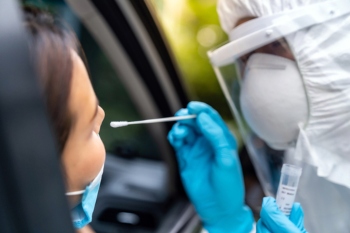 Liverpool's community testing pilot managed to reduce COVID-19 cases by more than a fifth, an evaluation of the project has found.
Liverpool was chosen to pilot whole city testing for COVID-19 last November, with everyone living or working in the city offered a test regardless if they had symptoms or not.
An evaluation of the scheme by academics has now revealed community testing led to an 18% increase in case detection and a 22% reduction in cases compared with other areas up to mid-December.
Liverpool's director of public health, Matthew Ashton, said: 'The COVID-19 testing pilot was cutting edge public health work in action and a substantial number of people in the city embraced it.
'It helped cement regular testing as a way of identifying those with the virus who would have been unknowingly spreading it to others, and contributed to the fall in the infection rate we saw in Liverpool over the course of the pilot. It proved to be hugely valuable at a point in time when the vaccines had not yet been rolled out.'
However the evaluation also found that people living in more deprived areas were least likely to get tested due to a fear of loss of income in self-isolation.
Professor Iain Buchan, dean of the Institute of Population Health and lead for the evaluation, said: 'Effective testing for the COVID-19 virus, however, is much more than a test. People in disadvantaged areas, and those with fewer digital resources, found it more difficult to access testing or to afford to isolate. The local public health team was vital in adapting testing to reach as much of the population as possible. Local approaches were also key to understanding how to offer daily testing as an alternative to quarantine for contacts of cases.'