A new ranking of local government suppliers has revealed over half of the top 15 regular suppliers were construction firms.
In 2017, the top 15 regular suppliers to local government won 105 awards worth £2.9bn and were listed on 106 frameworks, with an estimated value to them of £5.9bn.
Launched by Tussell, a data provider of government procurement information, the new ranking found Skanska was the top regular supplier to local government in 2017, with Kier Group, Morgan Sindall and Galliford Try all topping the list.
A multinational construction firm, Skanska won local government awards worth £400m last year, thanks in large part to its inclusion on a £1.6bn framework issued by Hampshire County Council for highways services.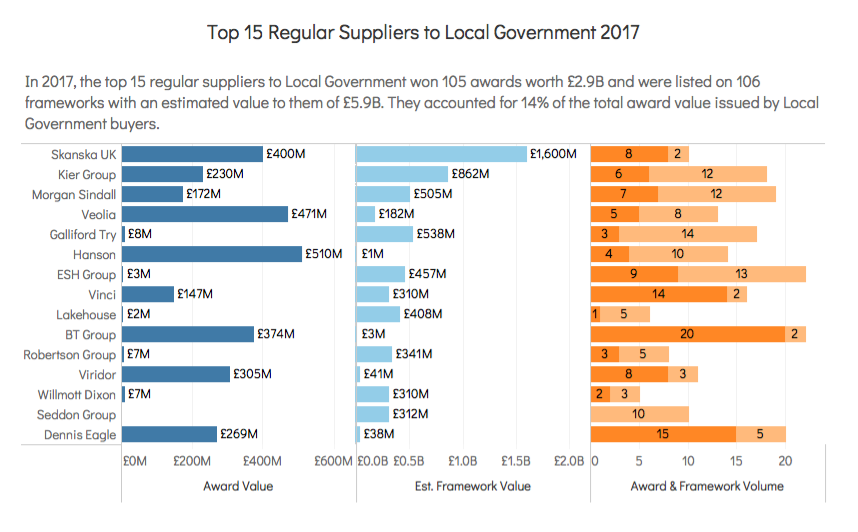 Five of the top 15 regular suppliers to local government in 2017 - ESH Group, Galliford Try, Kier Group, Lakehouse and Morgan Sindall - benefitted from being included on a £5.5bn framework for 'Schools, Community Buildings and Refurbishment Works'.
Issued by purchasing body LHC (formerly London Housing Consortium) in July, this was the largest local government contract in 2017.
BT Group saw the largest year-on-year increase in contract volume from local government buyers between 2016 and 2017, according to Tussell's research.
This was partly driven by being awarded nine separate contracts to deliver superfast broadband for various councils across the country.
'Local government procurement in 2017 was worth more than £54bn - representing a significant opportunity for UK businesses,' said Tussell founder Gus Tugendhat.
'It is great to see top firms working with local government to deliver key infrastructure projects and provide public services.
'The multiple large value local government construction projects are a positive sign, challenging the conventional wisdom about a lack of public investment in housing and transport infrastructure.'