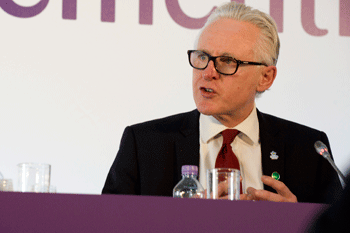 The Liberal Democrats today announced the party would dedicate £1bn to tackling the 'historic injustice' faced by people with mental ill health.
The party last weekend unveiled its plans to raise £6bn for the health and welfare system by increasing income tax.
Liberal Democrat leader Tim Farron and shadow health secretary Norman Lamb today said £1bn of this would be ring-fenced as dedicated funding for mental health services.
This would help to deliver on 12 key priorities, including improving waiting times for mental health care on the NHS and providing support for pregnant women and young people suffering from mental health problems.
The party added they would end the inappropriate use of force against people with mental ill health, end out of area placements for mental health patients and prioritise national action to reduce the number of suicides.
'The Liberal Democrats are committed to ending the historic injustice against people with mental ill health,' said Mr Lamb.
'Under the Conservative government, services have been stretched to breaking point at a time when the prevalence of mental ill health appears to be rising.
'Neither Labour nor the Conservatives have outlined how they will fund mental health services.
'We've made it clear that our priorities will be funded from our ambitious plan to inject £6bn a year into the NHS with an additional penny on income tax.'
Under its manifesto, the Green Party pledged to give equal treatment to mental and physical health. It promised to make sure anyone needing therapy receives it within 28 days of being referred, and to roll-out a new school-based therapy to treat mental ill health earlier.
Jonathan Bartley, Green Party co-leader, said: 'We must put the wellbeing of people ahead of the Conservative Party's destruction of our public services. The Green Party will make sure mental health is treated with equal seriousness to that of physical health so that we can finally support those who are suffering - very often alone and in silence - with the weight of a mental health illness.'