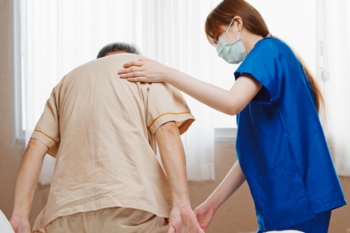 Local authorities could save £1.1bn from their social care budgets if home care services were levelled up across England, new analysis has revealed.
The Institute for Public Policy Research (IPPR) and CF found the proportion of care provided at home varies considerably across different councils, causing a postcode lottery of services.
The analysis said that if every local authority provided home care equal to better-performing similar councils, 80,000 more people over 65 in England could be receiving care at home.
This would save local authorities £1.1bn per year from their social care budgets, as community care is around one third of the cost of more institutional residential and nursing home options.
Chris Thomas, IPPR senior research fellow, said: 'The Government needs to think through not only how social care is funded, but also how care is delivered to ensure people can lead flourishing lives, regardless of arbitrary factors like where they live.
'Anchoring care in places people call home is an important way to achieve that. Everyone should have the opportunity to receive care at home, if clinically appropriate, from the first moment they need support. The care options available to you shouldn't depend on where you happen to reside.'
The IPPR is calling for a guaranteed right to care at home where clinically appropriate, preventing an estimated 80,000 people from being forced to sell their home to pay for care costs.
It also calls for a £5bn upfront investment in boosting home care infrastructure, minimum pay standards for social care, and an increase in local commissioning capacity and expertise.