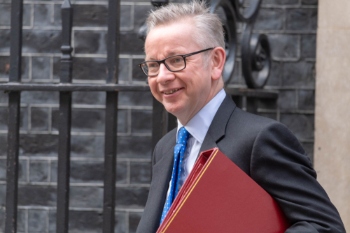 The Government has published the levelling up Bill which promises to transform struggling towns and cities and support local leaders to take back control of regeneration.
The Levelling Up and Regeneration Bill will enshrine in law the Government's commitment to long-term missions to spread opportunity, drive productivity and boost local pride in every corner of the country.
However, the Government has been criticised for leaving open the possibility of abandoning or changing the White Paper's levelling up missions and can delay reporting on them until after the general election.
Levelling Up Secretary Michael Gove MP said: 'This Bill puts in place the reforms we need to level up. It enshrines our levelling up missions in law, which will shift resources and focus throughout this decade to the parts and people of the country who need it most.
'It enables every part of England which wants a London-style mayor to have one. It empowers local people, not the big developers, to take back control of regeneration in their community.
'It shifts power out of Whitehall by giving local leaders the powers they need to tackle the blight of empty shops on high streets and to regenerate their communities. This is underpinned by a firm belief that by far the best placed people to level up communities are the people who live there.'
Responding to the announcement of the Bill in the Queen's Speech on Tuesday, Cllr James Jamieson, chairman of the Local Government Association (LGA), emphasised the importance of devolving power to local authorities in order to tackle regional inequalities.
'Over the last decade, England has taken steps towards greater devolution, but areas outside our city regions have remained stuck in the "devolution slow lane" and the UK remains one of the most centralised countries in the democratic world,' he said.
'There is an urgent need to turbo charge the speed at which we are devolving powers to local areas so we are pleased that the Government has used the Queen's Speech to make good on its commitment to offer all of England the opportunity to benefit from a devolution deal by 2030.'
Cllr Jamieson said that a local, plan-led system was integral to levelling up and welcomed the fact that the new Infrastructure Levy will be set at a local level. He also said that the LGA was pleased that councils were being empowered to bring vacant properties back into use.
However, he called for national permitted development rights, which enable the conversion of offices, shops and restaurants into houses without the need to provide any affordable homes or infrastructure funding, to be removed.
He also called for reform of the Right to Buy scheme to allow councils to be able to keep 100% of receipts from sales of homes and the ability to set discounts locally.
Jonathan Carr-West, chief executive, LGIU said: 'Our concern about the Levelling Up White Paper was that it didn't envisage a sufficiently strategic or wide ranging leadership role for local government. The Levelling Up and Regeneration Bill as published reinforces those concerns.
'It only really engages with one new vision for local government: combined county authorities with elected mayors and with one local government function: planning. These are both important but there's so much more that local authorities can be and so much more they can do. If we want to achieve the important levelling up missions that this Bill passes in to law, we will need a more imaginative and transformational approach to local leadership and the role of local government.
'At more than three hundred pages long, the Bill is a very thick document but its vision for local government is rather thin.'
To read more on the Levelling Up Bill visit The MJ (£).