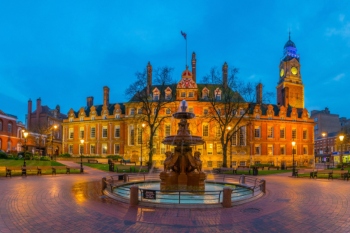 The Government has been accused of taking a 'sledgehammer approach' to the local lockdown of Leicester by mayor Sir Peter Soulsby.
The Government confirmed yesterday that Leicester will remain in lockdown for a further two weeks, as its infection rate is still above the national average.
Some restrictions have been eased such as the opening of schools and early years childcare in certain parts of the city.
However, mayor Soulsby said there was no need for a full city lockdown as it had access to the data needed to take 'targeted local action' to get the virus under control.
Sir Peter Soulsby said: 'We have already showed the Government what can be achieved when they work with local councils on the ground, by helping them to set up the biggest testing operation in the country which is now responsible for more than 10% of all testing in England.
'If the Government allowed us to focus on the 10% of the city where infection rates are higher, we are more than capable of doing what is needed.'
Health and social care secretary Matt Hancock, said: 'Some say that the local lockdown is unnecessary. I wish this were true.
'But sadly it remains vital for the health of everyone in Leicester, and the rest of the country, that these restrictions stay in place. We will review them again in a fortnight.'