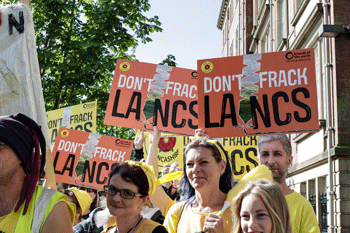 Lancashire councillors have been warned the town hall risks being fined if it blocks local fracking as the move could be considered 'unreasonable'.
Energy firm Cuadrilla has submitted planning applications to explore for shale gas at two sites in the northwestern county, involving drilling, hydraulically fracking, testing gas flows and the construction of up to four vertical bore holes at each site.
The town hall's development control committee last night voted to refuse an application at Roseacre Wood, citing the potentially severe impact any development would have on the road network.
Residents and campaigners have this week been staging protests outside the town hall against Cuadrilla's proposals.
Lancashire has deferred making a decision on a second site at Preston New Road until Monday, after the local authority's planning officer recommended the application be given the go ahead.
David Manley QC has now said a refusal of the Preston New Road site without 'substantial objective evidence' could 'readily be described as unreasonable in planning terms'.
He told the local authority's development committee that it would be 'highly likely' Cuadrilla would appeal against any refusal based on a 'generalised policy' and there was 'a high risk that a costs penalty will be imposed upon the council' if such an appeal took place.
Manley added that councillors could be forced to give evidence at the appeal themselves as 'it would be difficult, if not impossible, to find a reputable independent planning consultant to defend LCC's position'.
However Friends of the Earth's legal advisor, Jake White, said the legal advice was 'flawed' and 'failed to address a number of important considerations including health or noise impacts'.
'The legal advice sits within a framework of national government policy which privileges fracking over clean wind energy technology. This puts huge pressure on councillors to back fracking against their better judgement,' White said.
'Councillors are elected to make decisions in the best interests of their communities. They should not be bounced in to voting for fracking based on rushed and flawed legal advice or by a policy framework skewed in favour of dirty energy.'
Cuadrilla said it was 'disappointed but not surprised' by Lancashire's decision to refuse permission for the Roseacre Wood site and is considering launching an appeal.
Photo: Friends of the Earth