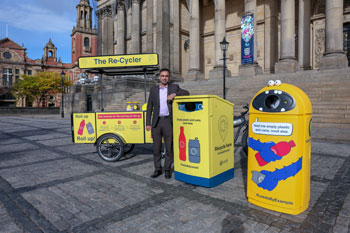 Leeds City Council has teamed up with environmentalists to pilot new on-the-go recycling facilities to help people recycle bottles and cups while they are in the city centre.
Despite the fact that UK citizens get through 13 billion plastic bottles, nine billion drinks cans and two and a half billion coffee cups each year, only 42% of local authorities provide on-the-go recycling facilities.
In an effort to remedy this, Leeds CIty Council is working with environmental behaviour change charity Hubbub, recycling compliance scheme Ecosurety, and a number of local businesses to pilot new recycling facilities for plastic, cans and paper cups.
These facilities will be available on the street but also in local offices, shopping centres, universities and transport hubs for six months from October 2018.
In order to avoid on-street recycling becoming contaminated by liquids, tea bags and leftover food, the #LeedsByExample pilot will be accompanied by a communications campaign which will include adverts, street signs and messages.
'The huge range of eye-catching recycling bins and communications throughout Leeds city centre will make it really easy for residents, workers and visitors to spot their nearest recycling point,' said Gavin Ellis, director and co-founder of Hubbub.
'We're interested to discover which of these will make the biggest difference and will share what we learn openly so that the most successful elements can be rolled out in Leeds and nationally.
'We're also making sure that all of the recycling we collect will be processed in the UK as locally as possible.'
Cllr Rafique, Leeds City Council executive board member for environment and active lifestyles commented: 'With this pilot, innovative technology and interventions will be tested across our city and we are really pleased to see many businesses signed up already to this campaign, from universities to restaurants, shops and offices.
'I'm encouraging as many local businesses and organisations as possible to get behind this project so that together we can make a real impact on recycling rates in Leeds city centre.'