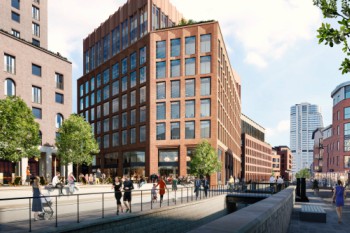 Leeds plans to double the size of its city centre with the development of 16,500 new homes, the council tells delegates at a real estate conference.
Representatives from Leeds City Council outlined their plans for housing growth in the city today, which include the expansion of the city centre and the country's largest sustainable housing development.
Speaking at MIPIM, they laid out their plans for the regeneration of South Bank Leeds with the construction of 8,000 new homes. This will double the size and economic output of the city centre, they explained, with the creation of more than 35,000 local jobs.
Delegates at the real estate conference also heard about the construction company CEG's £350m plans to build 'Yorkshire's tallest residential building'. It will be a mixed development of up to 750 new homes, offices, shops, cafés, bars and restaurants.
'This is a derelict site where we can deliver a vibrant mixed-use strategic development of a critical mass and international quality that can enable this regeneration area to become a true gateway into the city, reconnecting local communities,' explained Jon Kenny, development director at CEG.
There will also be 700 new homes, alongside office and leisure space, built by Caddick Group in the city's cultural centre.
Leeds City Council is prioritising 'environmental sustainability' as part of its residential proposals.
It's MIPIM representatives argued Citu's Climate Innovation District, where sustainable houses will be built according to Scandinavian-inspired design standards, will deliver long-term environmental benefits both for residents and the city.
MIPIM delegates also heard about the District Heating network installed by Vital Energi. This will see heat produced by the council's Recycling and Energy Recovery Facility (RERF).
This 'ground-breaking' development will provide a sustainable source of heating and hot water for local households and businesses, through a network of underground pipes.
The scheme aims to reduce the fuel bills of Leeds' most vulnerable residents by approximately 10%, through more efficient and controllable heating.
'This is an exciting time for residential development in Leeds, as we progress with more than 40 diverse residential projects, with 60 sites identified for future growth – as we target the delivery of 16,500 new homes across the city centre,' said Cllr Judith Blake, leader of Leeds City Council.
'Leeds has always enjoyed its reputation as an innovator in the region, and the residential market is no exception.
'Through pioneering partnerships, Leeds is likely to become home to Yorkshire's tallest residential building and the UK's largest sustainable housing development in the coming years.'