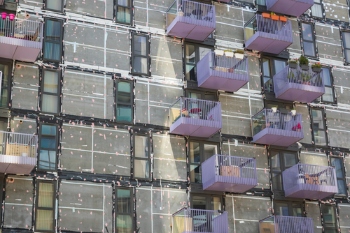 Local authority leaders have welcomed measures protecting leaseholders from being landed with unfair bills to make their homes safe, but warn the new legal protections may be 'insufficient'.
As of today, many leaseholders will for the first time be legally protected from being landed with the bill for fixing historical safety defects as measures in the Building Safety Act 2022 come into force.
Levelling Up Secretary Michael Gove said: 'Today marks a major turning point for building safety in this country, as we introduce a tough new regime to make homes safe and help rid the sector of bad practice once and for all.
'Hundreds of thousands of innocent leaseholders now have the legal protection they rightly deserve, freeing them from a financial burden they should never have faced.'
The new measures offer protection to qualifying leaseholders living in buildings above 11 metres tall or with at least five storeys. A 'qualifying leaseholder' is defined as those living in their own homes or with up to three UK properties in total.
Cllr Darren Rodwell, Local Government Association (LGA) housing spokesperson, welcomed the news but said the measures do not go far enough.
'The LGA has long argued that blameless leaseholders should not have to pay for fire safety defects resulting from 20 years of regulatory failure and industry malpractice,' he said.
'We are pleased the Government has listened, although we remain concerned that the measures announced today will be insufficient to protect all leaseholders who own the freeholds of their blocks.'
Cllr Rodwell also said that the new protections should be extended to social housing tenants.
'Government is right to recognise that the regulatory system was inadequate and operating poorly before the Grenfell Tower fire. It now needs to take responsibility for that failure by ensuring social housing tenants have the same protection that it has offered homeowners,' he said.