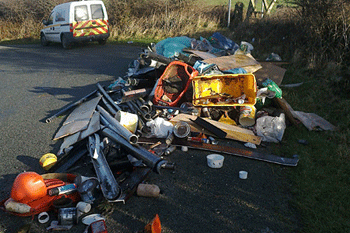 Seizing vehicles must become the default penalty for fly-tipping as part of tougher punishments for waste crime, landowners insist.
The CLA, a membership organisation for landowners in rural England and Wales, has produced a five-point action plan that it believes should be adopted to tackle fly-tipping.
As well as seizing vehicles, the CLA recommends enforcing fines for home and business owners whose waste is found in fly-tipped locations.
They also urge the Government to appoint a 'Fly-Tipping Tsar' to co-ordinate with national agencies on fighting fly-tipping.
Results from a survey conducted by Farmers Weekly and CLA Insurance revealed that almost two thirds of farmers and landowners have been affected by fly-tipping and over half agree it is a significant issue in their area.
Some 85% have taken measures to protect their land, such as installing gates or barriers, padlocking entrances and using CCTV. But only 13% have insured their farm business against fly-tipping.
Most victims surveyed said they had been targeted on multiple occasions, around two to three times per month, and because private landowners are liable for the clean-up process they are spending on average £844 per incident.
The CLA's plan also proposes developing new ways to clear up and support victims so that private landowners are not liable.
Out of 936,000 fly-tipping incidents in 2015/2016 only 129 vehicles were seized, and out of 2,135 prosecutions only 77 fines of over £1,000 were imposed, according to figures published by Defra earlier this year.
'Fly-tipping is not a victimless crime. Private landowners are fed up of clearing away other people's rubbish and paying for the privilege,' said CLA president Ross Murray.
'If they don't act, they risk prosecution for illegal storage of waste which is simply not fair.
'It's not just the odd bin bag that is being fly-tipped but tonnes of hazardous waste, mattresses being set alight in woodland and even a dead horse dumped on private land because the perpetrators know they can get away with it.
'We need to see tougher penalties which act as a true deterrent. Seizing vehicles involved in fly-tipping and imposing and enforcing penalties which better reflect the seriousness of the crime is vital.
'Only through co-ordinated and collective effort can we push back against this scourge that is damaging our countryside and rural economy.'