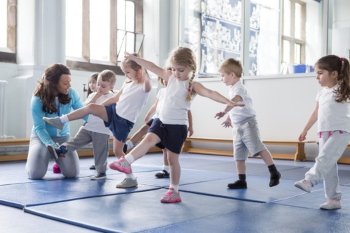 The UK will face a 'tsunami' of health issues unless the physical activity skills of children and teenagers are improved, academics have warned today.
The academics, working with the International Motor Development Research Consortium, have highlighted a 'worrying' low level of motor competence of children and adolescents in the UK and Ireland.
This could lead to an increase in obesity, diabetes and mental disorders unless addressed, they said.
They are calling on schools, community sports and healthcare systems to focus on enhancing fundamental movement skills such as balancing, running, throwing and catching.
'The potential long-term impacts of low fundamental movement skills include higher rates of inactivity and poorer health and well-being,' explained Professor Mike Duncan from Coventry University's research Centre for Sports, Exercise and Life Sciences.
He added: 'We believe skill levels are so low that children do not currently have sufficient foundation to successfully participate in different forms of physical activity and without this we are likely to see increasing ill health related to obesity, diabetes, and mental wellbeing. There is an urgent need to ensure that children are taught the movement skills that will enable them to be active for life.'
He also warned the data was collected pre-pandemic so due to lockdown and homeschooling, the situation is likely to have worsened in the past few years.
A study in 2019 shows less than 20% of children in the UK aged six to nine years had mastered the four key motor skills - run, jump, throw, catch - identified by the PE National Curriculum.