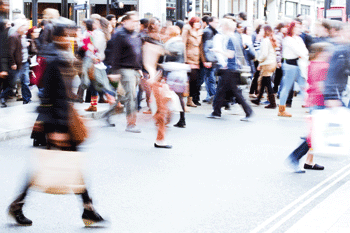 In the 1990s almost £40m worth of government funding was made available to local authorities to implement CCTV programmes. Since then, public space CCTV has really become a way of life.
Although in and out of the news, it is an element of public protection that is simply accepted and – in fact – embraced. In 2013, our own independent research showed that two-thirds of people feel public space CCTV helps prevent criminal behaviour and therefore welcome its use.
This year has seen an unprecedented spotlight fall on public space CCTV with the arrival of the Surveillance Camera code of practice – a spotlight that has some local authorities wondering what steps they need to take next.
The Surveillance Camera code of practice – introduced by the UK's first-ever Surveillance Camera Commissioner as part of the Protection of Freedoms Act – was released on 12 August 2013 and requires full compliance by April 2014.
It is designed to ensure public space CCTV is operated in a way that reflects the wishes and rights of the general public and aims to achieve this by setting out 12 guiding principles.
As you would expect, the principles cover correct access to – and use of – images captured in line with clear policies and procedures. While voluntary, the principles also reflect the legal requirements contained in the Information Commissioners Office (ICO) CCTV Codes of Practice (2008).
For the vast number of local authorities this essentially means 'business as usual'. However, by far the strongest theme running through the 12 principles is 'purpose' and it is this that requires further explanation.
The code states the use of a surveillance camera system must 'always be for a specified purpose which is in pursuit of a legitimate aim and necessary to meet an identified pressing need'. In other words, there has to be a clear operational requirement as to why the system is necessary.
The code also specifies data captured must be capable of meeting this 'specified purpose'.
Beyond this, the code also dictates that 'purpose' must be communicated, therefore promoting a level of transparency and clarity with the general public. Limited budgets and resources mean very few councils would be in any position to implement CCTV systems without making a strong case for purpose; but there is more to it than this.
Legacy systems are a key consideration. While any new system implemented is likely to undergo significant 'purpose scrutiny', are the correct procedures in place to ensure existing systems continue to deliver according to original purpose?
For example, it could be that an area of a town or city once susceptible to criminal or anti-social behaviour incidents has improved significantly. If the need is no longer there, the system might no longer be fulfilling its original purpose.
On a more basic level you also have to think about the actual images: is the data being captured of evidential quality – if that was an original requirement of the system?
This means assessing the level of technology used but could also relate to environment. For example, while a camera might have benefited from clear line of sight when originally implemented, this might no longer be the case due to foliage or fresh building work.
What the code of practice doesn't mean is systems have to be ripped out and replaced. This is a common misconception.
Modern surveillance technology means hybrid systems, which enable legacy analogue cameras to seamlessly integrate with HD IP-based cameras, can be adopted rather than having to 'start afresh' with entirely new technology.
Another widely held belief is that in order to achieve compliance with the code of practice extra manpower will be required to implement new review processes and enhance communications with the public about what is happening and why. Again, this is not necessarily the case.
Firstly, most operators will already have set review procedures in place in order to comply with the ICO CCTV Code, which required regular system assessments to demonstrate the use of CCTV continues to be justified. As part of this, notification needs to be renewed annually anyway so this would be an appropriate time to consider the ongoing use of CCTV.
Most modern surveillance systems will also have extensive reporting functionality built-in, enabling different scenarios, incidents and outcomes to be monitored, recorded and reported according to specific needs.
Rather than be concerned about finding additional manpower or implementing and policing extensive new protocols, local authorities should look to their current systems and use the functionality that is already there.
This might require some upfront investment in terms of training but it is a lot more cost effective than implementing new systems.
There are councils that use the reporting capabilities of their surveillance system to produce monthly updates, which highlight incident levels, types and locations, both to justify budget spent and to communicate with external stakeholders i.e. the public. It works well as people are able to see for themselves what city or town centre CCTV systems are achieving.
Communicating with the public in this way meets the transparency requirements of the code and is also just good practice.
In addition to showing public support for the use of CCTV, research conducted by Synectics also revealed 81% of people said they didn't receive enough information on how CCTV is used in their area. Meeting the requirements of the code of practice could help address this issue.
As the points raised here demonstrate, the new Surveillance Camera code of practice is not something that should cause concern. Very detailed systems are already in place to ensure data is captured, monitored, stored and used securely and ethically. In this respect the code asks for nothing new.
But what's next? While fairly restricted in its scope – the new code does not cover any private use CCTV systems - it does signal the start of an era where the purpose and effectiveness of CCTV is likely to be more closely examined and this is development the security industry supports.
Indeed, the British Security Industry Association is already looking at how the guiding principles can be built into industry recommendations and guidance that cross reference with the latest European and International standards.
The good news is that by achieving code of practice compliance now, simply by making a few small changes, local authorities can get ahead of the curve and ensure they are set for further regulatory change further down the line.
Tony Holloway is security consultant at Synectics.