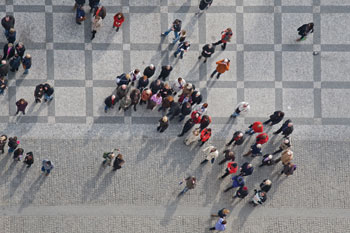 Last year, major cities around the world including London, New York and Barcelona, became victim to some of the deadliest vehicle attacks the West has ever seen. These vicious attacks really brought home the level of threat the world currently faces, and the loss and destruction that follows such an incident.
Since 2016, the number of lethal terror attacks that occurred in just Europe alone has risen sharply, by about 500% compared to three years earlier. In 2016, there were terror attacks resulting in fatalities, compared to just five in 2013.
With hostile vehicle attacks on the rise, the need to improve security around public areas, buildings and tourist hotspots has become a major focus point for local governments to keep the public safe.
A report by Pool Reinsurance Limited warned that 'more attacks should be expected in the UK in 2018 and these are likely to be focused against crowded places, particularly those linked to the transport sector, the military, police and politicians.'
Looking back at the security strategies that were deployed in 2017, what can we learn from these methods and how can we improve on how we keep the public safe in 2018?
In response to the increasing terror threat, last year saw a larger presence of armed and unarmed police officers across the UK.
Following the attacks in Manchester and London, greater police numbers were quickly deployed across the UK, and UK armed forces were called in to support the police.
We recently conducted research which found that 36% of the public would welcome more armed officers at public events to make them feel safer in light of recent terror events. But, while greater police presence and security checks will go a long way towards preventing bomb and knife attacks, they will unfortunately do little to stop a vehicle travelling at high speed from making contact with its target.
For this reason, governments and security officials need to put in place a well thought out security strategy that includes a larger police presence, but also combines greater investment in physical security solutions that can actually withstand the force of a vehicle attack.
Bollards and barriers to secure the perimeter With hostile vehicles now becoming the new weapon of choice for terrorists, governments have been deploying more physical security solutions to prevent future attacks.
In London, the Government reacted to last year's attack by erecting concrete barriers overnight on London Bridge to segregate the pedestrian pathway from the road. During the weeks leading up to the Christmas markets, major cities around the UK also deployed concrete blocks to stop hostile vehicles in their tracks.
While concrete barriers provide protection against a vehicle ramming attack, they can be potentially dangerous by making it difficult for pedestrians and cyclists to manoeuvre around them. This could create bottlenecks of people who are all trying to push and shove to get past the barrier, which could cause injury and leave queues of visitors vulnerable to attack on the wrong side of the barrier.
The constraints of concrete blocks have paved the way for developments in Hostile Vehicle Mitigation (HVM) solutions, which are likely to become more visible on our streets in 2018. These temporary barriers can withstand the direct impact from a vehicle attack – there are even barriers that have become available this year that can stop a 7,200kg lorry travelling at 32kph in its tracks. These barriers have been designed to come in modular, lightweight components, so there's no need to bring in heavy machinery or put extensive road closures in place to deploy them - securing a road takes just under 30 minutes.
With the terror threat at an all-time high, governments and security officials must start putting a more strategic, proactive approach in place to deal with terror attacks. We know that hostile vehicles are now the weapon of choice, so 2018 must be about forward-planning and investing in effective physical solutions that can prevent attacks from happening – rather than just reacting to the threat after we've witnessed yet another devastating incident.
Gavin Hepburn is director at ATG Access