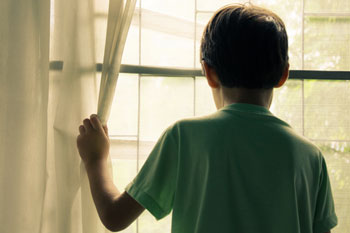 More than 4,000 victims and survivors have shared experiences of child sexual abuse with the Truth Project, part of the Independent Inquiry into Child Sexual Abuse. The second in a series of thematic reports, this report explores abuse in residential care and children's homes.
"He said, "If you tell anybody, I'll kill you". He actually put his hands on my throat."
These words are from a survivor sexually abused in a children's home and residential care context.
The Inquiry has already heard during public hearings for Rochdale and Nottinghamshire Councils how pervasive and insidious child sexual abuse in residential care can be. The latest research report from the Inquiry focuses on the sexual abuse of children in the context of children's homes and residential care across England and Wales, focusing on children's homes, secure children's homes, or accommodation for care leavers under the age of 18.
The report highlights an embedded culture of abusive behaviour, with multiple forms of abuse accepted in the working practices of children's care. Violence is normalised.
"There was one guy there … he thought it was funny to actually make us attack each other, and hurt each other. And he used to take you into a back room, and he'd say if we didn't fight, he'd hurt you."
Many survivors described an initial sense of relief when they arrived at the institution, after escaping often difficult circumstances. Before arriving in care, children reported being burnt with chip fat and cigarette butts by members of their own families.
However, instead of a place of safety, participants reported places that were physically and emotionally cold, where children were subject to harsh regimes or neglect. More than a third (39%) of participants reported physical abuse alongside the sexual abuse. Many described threatening behaviour and abusive language.
One participant described how a nun walked in on her being sexually abused, but no action was taken.
"When I look back now it makes me feel physically sick that everyone knew this was going on, including staff - and did nothing."
In over half of the accounts where the sexual abuse was reported at the time (52%), participants disclosed to a person in authority inside the institution. In most of these cases, they said that their claims were minimised, deflected or denied.
Participants also talked about a general lack of supervision and professional boundaries within children's homes and residential care, describing the ease with which perpetrators were able to take children off-site and have unmonitored physical contact with children on-site. For example, survivors described ancillary staff having unquestioned access to all areas of the building, including children's bedrooms.
The focus on supervision is reflected in the recommendations put forward by survivors abused in residential care settings; 27% recommended that the supervision of children should be increased.
Victims and survivors of child sexual abuse who would like to share an experience and put forward recommendations for change can get in touch with the Inquiry's Truth Project. Visit www.truthproject.org.uk or email share@iicsa.org.uk. Visit the Inquiry's website for more information about Truth Project analysis and the research programme. The report can be found here.
Beth Mooney and Grace Ablett are senior research officers at the Independent Inquiry into Child Sexual Abuse