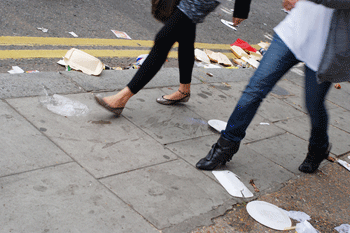 "Westminster…. we have a problem". I'm not referring to the Brexit negotiations or the pressures on the NHS, but something seemingly much more mundane, but actually very corrosive to communities all over the country. The deluge of litter and fly-tipping that's strewn throughout Britain.
As is now well known, local councils spend over one billion pounds a year cleaning it up. What an appalling waste of ratepayers money that could be far better spent on providing social services, playground facilities and many other productive things for local people.
For the first time ever, the government is in the process of producing a national litter strategy, and it deserves credit for this. The strategy will be launched imminently. Will it be a defining moment in answering Brexit-style populist environmental concerns amongst people all over the country?
There cannot be any half measures. The strategy must be bold, courageous and uncompromising. Why? Because much of Britain looks run-down, filthy, and uncared for. The government needs to send a very strong message that it's supporting communities up and down the country by, for example, introducing sizeable fines for drivers (and their passengers) who selfishly discard litter out of their cars. These fines, we believe, need to be at least £200 - the very same amount that has just been introduced for drivers caught using their mobile phones.
Lord Gardiner, the 'litter minister', needs to have the courage to do this, and much more besides. If he does, he will be applauded by the vast majority of citizens who are sick of having their local communities environmentally desecrated. If not, he will deserve public contempt.
Litter is a symptom of community decay and was well summed-up by Sean Lawson, director of environmental services at Rugby Borough Council, when giving evidence in Parliament: 'We often do not associate [litter] widely enough in terms of the impact it has on social cohesion and the economic vitality of areas. We think, "it's just litter." We really do need to shift how we think about litter.'
He's absolutely right. Apart from making our green and pleasant land a permanent eyesore, litter costs us a fortune to clean up, injures and kills animals who ingest it, discourages investment and tourism, and there is now a growing body of evidence that it even causes people to be depressed.
It's all downside, and the only sustainable answer to the problem is long-term behavioural change. Much like drink-driving we need to make littering socially unacceptable.
Given the lack of any identified budget in DEFRA, who's going to pay for the government's anti-litter strategy and, also, who's going to provide direct financial assistance to local authorities to offset the obscene costs they incur in trying to deal with litter?
Here's one obvious candidate. A company like Wrigley's, who are making tens of millions of pounds profit in this country - but whose products often end up being those horrible black (and white) blotches all over pavements - must start playing a meaningful part in consigning litter to the dustbin of history. Wrigley's dominates the market in the UK, and in 2014, the Local Government Association worked out that local authorities in England paid over one million pounds a week to high-pressure jet clean chewing gum off pavements. An astonishing and shocking waste of money.
A recent parliamentary select committee said: 'Having given serious consideration to a chewing gum tax, the committee warns the industry that it now has one last chance to put its house in order.'
"The industry" in question is 95% one company - Wrigley's - in the UK, and has, arguably, not put its house in order whatsoever. If they do not make a million pound plus contribution to funding the government's strategy, they should - as the committee has seriously suggested - have a chewing gum tax imposed on them. Their products cannot be allowed to continue environmentally scarring our landscape and financially crippling local ratepayers. We entirely accept many of their customers litter, not the company itself, but that does not excuse them from taking greater levels of responsibility, or conforming to the 'polluter pays' principle.
Britain has never been so filthy with litter and fly-tipping out of control, and if the government's promise to leave this land in a better environmental state than it inherited, is to mean anything… then its first-ever national litter strategy cannot turn out to be a damp squib of rehashed, compromised or previously failed ideas. It needs to be bold, innovative and courageous, and begin restoring pride in the way our country looks and feels about itself.
John Read is the founder of Clean Up Britain, the leading national behavioural change litter campaign.