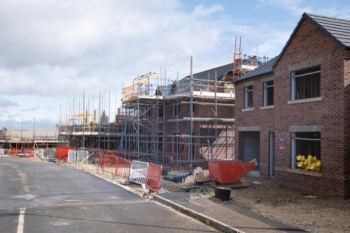 Loan funding of at least £624m will be made available to house builders to deliver up to 116,000 new homes, the Government has announced.
The funding - part of the £2.2bn announced in the 2020 spending review - will be used to improve transport, build schools and unlock land for new housing, with a particular focus on brownfield sites.
The Government hopes it will create thousands of new jobs and boost smaller building firms.
Housing minister Christopher Pincher said: 'Improving transport links, building schools and health facilities are key to unlocking new homes and creating vibrant places where communities can thrive.
'This money will build on our commitment to bring derelict and abandoned sites back to life, regenerating towns and cities as we level up across the country.'
Loans will be administered by Homes England through the Home Building Fund.
Chief executive of Homes England, Peter Denton, said: 'This new infrastructure funding will be a powerful catalyst for creating new homes, places and communities.'