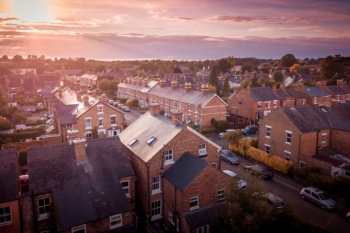 New research suggests that a greater proportion of UK social housing residents care about being involved in their community than feel like they belong to that community. Furthermore, this research suggested that addressing levels of neighbourhood safety could positively impact the levels of community belonging.
The Neighbourhoods & Communities survey is the first report from the Resident Voice Index™, a new nationwide initiative from MRI Software that asks residents about their feelings and perceptions around a series of key issues. The project is delivered in partnership with Housing Associations Charitable Trust (HACT), Housing Quality Network (HQN) and us marketing.
This first instalment investigated the complex relationships between residents' perceptions of community belonging, caring and safety. It also looked at how well their neighbourhoods were served with essential amenities.
Evidence from 3,875 self-selected UK social housing residents showed that those who felt a sense of belonging were almost five times more likely to report feeling safe (64%) compared to those who did not (13%). There is also a clear link between caring and belonging, whereby individuals who responded positively to one were twice as likely to answer positively to the other.
Belonging and caring
Social connection is one of our fundamental needs that continues throughout our lives. It forms a sense of self and underpins our bonds with family, friends and our place within society. A sense of belonging has repeatedly been linked to higher levels of happiness and wellbeing, along with better physical and mental health.
Research from the ONS reveals a diminishing sense of belonging over the last decade, with their 2019/20 survey reporting 63% of respondents feeling part of their neighbourhood. The findings from the Neighbourhoods & Communities survey showed that only 31% of social housing residents currently feel the same way.
However, the percentage who did not care about being involved was very low. These results suggest that for around 50% of respondents, the right interventions from central and local policymakers and housing providers could move them towards a sense of belonging.
Some of the actionable insights uncovered included the provision of accessible community spaces, improved communication and interventions to increase feelings of safety in neighbourhoods.
Safety
For residents and providers, safety is a key issue. More widely, the Home Office's 'Beating Crime Plan' from July 2021 has also identified the role that neighbourhood safety has in supporting communities to thrive socially, culturally and economically.
Over time, the Resident Voice Index™ initiative will look at safety in the home, safety of the home (structural) and neighbourhood safety. For this survey, residents were asked whether they felt that their neighbourhood was safe and what could change to improve those feelings.
Overall, 39.5% of respondents felt that they lived in a safe neighbourhood. The remainder were unable to commit, with one third (34%) openly indicating that they felt unsafe. Perceptions of safety increased with age, with those under 35 feeling significantly less safe than over 55s.
When asked for ideas of how to improve neighbourhood safety, 90% of respondents offered suggestions of which the most popular were increases in community policing, addressing problems related to the misuse and dealing of drugs, improving lighting and reliable CCTV.
Other popular suggestions included providing activities for young people, making sure greenery is well-groomed to deter antisocial behaviour, addressing speeding in areas and careful placements of residents in need of support.
Neighbourhood facilities & amenities
This survey is influenced by the '15 Minute City', an urban planning approach whereby inhabitants have multiple facilities within a 15-minute walk or cycle from their home in order to have complete, people-centric neighbourhoods. This survey asked residents about the facilities and amenities in their neighbourhoods and what was important for them to have close by, including options such as working, learning, leisure, green spaces and GP surgeries.
Results showed that overall, communities across the UK are well provisioned, with the availability of facilities aligned with the priorities of residents. There was one notable exception; 'access to healthy and affordable food', which ranked third for importance but seventh for prevalence, suggesting a lack of this facility amongst those surveyed. Against a backdrop of an increased need for food banks and over 1m people in the UK estimated to live in 'food deserts', the evidence supports a need to identify gaps in provision.
With the Resident Voice Index™, MRI Social Housing had a vision for a deeper level of data analysis. The technology driving the index has helped to uncover previously unseen associations, giving MRI and the sector the ability to explore relationships that would otherwise not be revealed. These advances in technology have allowed MRI to derive actionable insights for all stakeholders to use to improve the lives of social housing residents.
The full dashboard with all the results from the first survey is available here.
The next report, available in 2022, entitled 'Community Support & Life After Lockdown', will focus on resilience, loneliness and optimism and how the relationship between residents and providers has changed during the pandemic.
Doug Sarney is solutions principal at MRI Social Housing