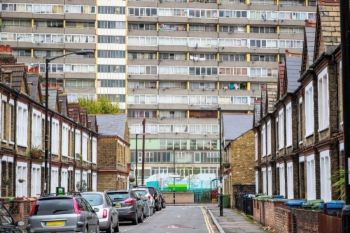 People living in England's most deprived neighbourhoods have among the worst health outcomes, a new report has revealed.
The report, published by the All-Parliamentary Party Group for 'left behind' neighbourhoods and Northern Health Science Alliance, shows people living in these areas work longer hours than the rest of the country but live shorter lives with more years in ill health.
The research shows that people living in local authorities that contain 'left behind' neighbourhoods were 46% more likely to die from COVID-19 and live 7.5 fewer years in good health compared to those in the rest of England.
It found that tackling the health inequalities in these local authority areas could add an extra £29.8bn to the country's economy each year.
Dr Luke Munford, lecturer in health economics at the University of Manchester and lead author of the report, said: 'We have long known that the health of people living in these 'left behind' neighbourhoods is worse than the national average.
'We have shown here that if we can improve their health, there is considerable economic and social gains to be made, which will not only improve the quality of life of these people but also considerably boost the national economy.'
The report calls for a national 'levelling up' strategy to reduce health inequalities, an increase in NHS funding in more deprived local areas and funding for health initiatives which increase the level of control local people have over their life circumstances.