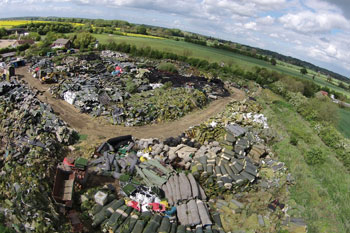 Dozens of illegal tipping sites have been discovered in a 'sting' operation by environment and customs officers.
The Environment Agency and HM Revenue and Customs confirmed they found illegal activity at waste sites in Lincolnshire, Northamptonshire, Cambridgeshire and Leicestershire.
Officers found four sites where waste had been burned illegally, four which were illegally treating and transferring waste, and a number containing construction and demolition materials, vehicle parts and household rubbish.
Shredded plastics, soil, rubble, scrap metal, tyres and pallets were among the waste found.
Around half of the 54 sites visited were found to be operating within the law.
Those that were not operating legally will receive written guidance from the Environment Agency clarifying the steps they must take, and follow-up visits will be arranged to make sure the site operators comply.
Pete Stark, Environment Agency Enforcement team leader, said: 'We will be following up on every single site where we've found illegal activity so we can put a stop to activities that blight our neighbourhoods, our environment and our economy.'