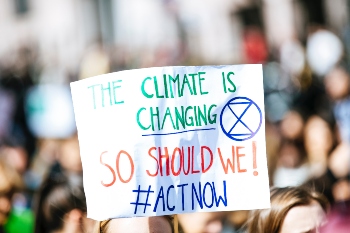 The UK Government has announced it will be enshrining the world's most ambitious climate change target in law - cutting emissions by 78% by 2035, compared to 1990 levels. Certainly there is no doubt that the UK has raised the bar on tackling climate change. This is a pioneering move, and one that couldn't come soon enough.
Work to tackle climate change has been underway in local governments for some time – more than 300 councils had declared a Climate Emergency even before the Government enacted this new target. However, local authority reporting on emissions is still voluntary and, if history has taught us anything, it's that most require strict and penalty-driven regulation to commit to change. It's an unfortunate, but important, truth to acknowledge.
Although local authorities are directly responsible for only 2-5 per cent of local emissions through policies and partnerships, it is estimated that they have strong influence over more than a third of emissions in their area. This influence is most often as a result of their position as community leaders, social landlords and their control over the supply chain, amongst other things. The new, net zero goal, will require local leaders to acknowledge and capitalise on their unique advantage as a public sector organisation and embrace this an opportunity that lies ahead, rather than a necessity. Quite frankly, this is no longer a space for reactive, token pledges.
The positive news is that the technology, creative collaborative thinking, and affordability exists to reach net zero. However, the road is narrow and staying on it requires massive commitment from all industries, particularly those from the most polluting industries. The question is therefore, how can leaders in local government set their councils up to reach net zero, contribute to the bigger goal of limiting global warming and, ultimately, limit further impact of the climate disaster?
1. Do not think of collaboration as an afterthought
Tackling climate change is impossible without government-industry collaboration and a willingness to unite. We all share the same planet and we are all marching towards the same goal. We've already seen fruitful examples of the cooperation between public sector bodies who have proven it is not only entirely possible, but it is also of huge commercial and environmental benefit.
In a UK first, 20 leading universities joined forces to strike a landmark renewable energy deal that would reduce both their bills and carbon footprints. It was an ground-breaking corporate power purchase agreement (CPPA) which saw the university cohort buy £50m of renewable energy from a portfolio of wind farms. Until this deal, the CPPA market had largely been the preserve of large corporates, but navigating this previously inaccessible market together enables these public sector bodies to make a genuinely progressive deal.
2. Standardise deals
Complex and lengthy documentation can be the achilles heal to securing the most advantageous and progressive deals. Standarising and shrinking the legal and contractual process will lower transaction costs to an affordable level, ensuring the market is decentralised and open to all. We must make 100+page documents a thing of the past – it is a crying shame to think admin is a barrier to progression.
3. Take advantage of healthy balance sheets and long term deals
Local and public sector bodies are in an entirely unique position compared to private sector organisations. Due to their AAA credit rating, they can strike better energy deals and jump through fewer hoops than those in the private sector. Plus, government bodies can take advantage of longer contracts, fixing power prices at competitive rates for 10, 20 or even 25 years, minising their exposure to market volatitiy.
4. Simplify strategy
Whilst long term policy frameworks allow for governments to plan for change, these objectives must be linked to a series of executable strategies and projects and short-term targets. Unfortunately paralysis by overwhelm is rife, but providing credible, step-by-step plans to reach net zero goals will build confidence among constituents and government and ensure councils are travelling forward only. A quote from Creighton Abrams springs to mind, "When eating an elephant, take one bite at a time."
5. Lead with a start-up mindset
Ultimately, technology plays only a small role in innovation. Local government leaders must innovate their thinking too. They need to be open to and commit to collaborating in finance and green technology and using their powerful voices to back social movements that initiate behavioural change amongst their communities.
We need to move to a low-carbon world as quickly as possible. But even in the best-case scenario, this transition will take time. Local governments and public sector bodies have the opportunity to lead the charge on climate change, use their buying power and balance sheets to stimulate the growth of green energy and pave the way for change at a local level.
Chris Bowden is managing director of Squeaky