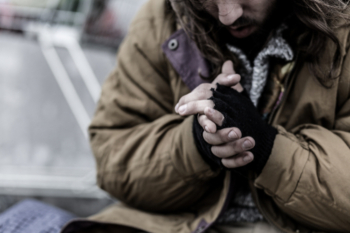 How does a person feel when they have no home to go to at the end of a day?
Helpless.
Hopeless.
Vulnerable.
Powerless.
Empty.
These are just a small number of the responses we have heard from people living without a home in England.
And sadly there are an increasing number of people sharing this sense of despair as homelessness grows across the country, affecting those from all walks of life, ethnicities and backgrounds.
At the end of last year, analysis by Shelter revealed that more than 320,000 people are homeless, and sleeping on the streets, or more often, in temporary accommodation such as hostels and B&Bs.
To put that in perspective: that's more people than the population of the city of Reading, or Nottingham, or Swansea or Preston, living without a home.
The most visible element of homelessness is rough sleeping, with local authorities counting or estimating an average of 4,100 people sleeping rough every night in 2017, according to Homeless Link - an increase of 134% since 2010.
Since the Homelessness Reduction Act came into force in April last year English councils have a legal duty to find a person somewhere to stay if they are homeless (relief duty) and a duty to help people at risk of losing their home (prevention duty).
This increase in homelessness comes at a challenging time for local authorities. The Government grant for councils has fallen by 38% since 2010 and overall council budgets have fallen by more than a quarter (26%). Between 2010 and 2017 the National Audit Office has reported a 69% reduction in local authority spending on housing related support services.
As one of the largest providers of services to tackle homelessness, we've worked with 100 local authorities across the country. Our work has helped give us insight into the ways that local authorities can work with partners to attract additional funding and implement cost-effective solutions that can reduce rough sleeping and homelessness.
'Alternative giving'
Working in partnership with others is crucial for local authorities hoping to achieve their ambitions in tackling homelessness.
'Alternative giving' is a growing method employed by councils to enable the public to actively participate in tackling street homelessness by donating to a fund which directly helps rough sleepers and people threatened with homelessness.
Manchester City Council has worked with partners to create a scheme called Big Change which so far has seen local businesses and people donate money, items and time. In doing so since late 2015 it has raised nearly £300k and distributed over 750 individual grants.
One of the key aspects of 'alternative giving' which makes it so successful is that the money goes straight to those who need it. It's local and immediate, which appeals to donors wanting to help people in their community and overheads are kept to a minimum – typically 15%.
The success of this has led to Andy Burnham rolling out a sister scheme called 'Real Change' across the whole of the Greater Manchester Combined Authority. Starting with Wigan and Leigh this has raised £12k and helped 26 people off the streets to avoid homelessness in just three months and the latest fund has just launched in Rochdale.
Our experience has taught us that two things are key to making 'alternative giving' a success:
1. Business support: Significant, deep and on-going engagement with local businesses to help attract financial and staffing resources and ensure an on-going commitment which individuals can find more difficult to maintain.
2. Communication: Ensuring the schemes communicate the positives of tackling and preventing homelessness in the local area rather than focusing on preventing the negatives of homelessness which inhibits donations. In addition reducing the council's involvement in communicating these schemes actually helps to increase donations and prevent people asking why the council don't just sort these problems themselves with existing funding.
Peer-led support
Homelessness has a devastating impact on the self-esteem and mental health of people affected.
Successfully communicating to and engaging with people when they have lost everything can be a slow, and understandably, difficult process.
Creating programmes that are led by people who have experienced homelessness themselves and have a direct understanding of the challenges that homeless people face is fundamental to creating a successful support scheme.
Westminster Council has created a peer-led outreach service which sees volunteers, themselves former rough sleepers, trained in dealing with substance misuse, mental health issues and armed with an extensive knowledge of the range of local support services, go out into the community to help those sleeping rough.
The Street Buddies service sees volunteers enabling homeless people to take the first steps to re-engaging with services and moving away from entrenched rough sleeping, in a way that those who just have professional qualifications often can't.
In 2018 Westminster Council introduced a voluntary 'community contribution' charge which has already seen residents in Band H properties raise an additional £400,000 of income for the council, some of which will fund Street Buddies as well helping young people and fighting loneliness.
Outcomes-based commissioning
Outcomes-based commissioning has operated successfully in the NHS since 2011 and has now been gathering momentum across the public sector.
It aims to solve the issue of cash flow and create a process which works well for commissioners when money is tight by ensuring local authorities only pay based on results.
Social Impact Bonds and Impact Funding have started to gain traction as vehicles which can be used to fund support services that look to end or prevent homelessness. This approach enables commissioners to try new initiatives and ideas with reduced risk by using a payment by results model.
Instead of using larger scale Social Impact Bonds, Impact Funding allows a local authority to pilot a specialist role or smaller service to see if the model works before commissioning it at a larger scale.
Riverside has created a £1m Impact Fund which allows councils to develop innovative solutions to homelessness prevention, resettlement, young people, hospital discharge, mental health and refugee support.
An impact fund creates additional resources for local authorities to rehouse people using different models such as:
1. Rehoming: Rapidly rehousing homeless families with support needs stuck in B&Bs to set them up in a property and to enable them to their maintain tenancies.
2. Housing First: Finding housing solutions for homeless people with multiple and complex needs. These people can often struggle to live in traditional supported accommodation. Housing First provides a safe place to live in where wrap around intensive personalised support can be tailored to the individual.
Such models can be developed with a payment by result methods meaning that Local Authority Commissioners only pay when the scheme achieves an agreed set of outcomes that effectively move people away from homelessness.
By working with partners local authorities can successfully and sustainably reduce the numbers of homeless people feeling helpless, hopeless, and powerless and enable them to go on and live stable and fulfilling lives.
Victoria King Lowe is Riverside Care and Support's Head of Improvement