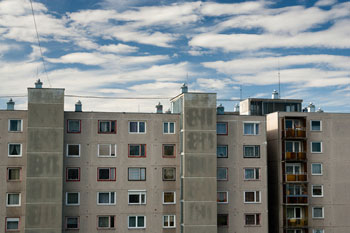 The number of people in England who need social housing is nearly double the number of people on the government's official waiting list, a new report has warned today.
The first ever 'state of the nation' report on the housing crisis, published by the National Housing Federation (NHF), found more than eight million people are living in an unaffordable, insecure or unsuitable home.
This includes 3.6 million people living in overcrowded homes, with 2.5 million people being unable to afford their rent or mortgage.
The country would need 340,000 new homes every year, including 145,000 social homes, to meet the demand identified by the research.
Kate Henderson, chief executive at the National Housing Federation, said: 'Today's research reveals the full enormity of the housing crisis – clearly, it is the single biggest domestic issue we face. The Government risks losing votes if it doesn't take action to tackle the consequences it has for the lives of young and old alike, all across the country.'
She added: 'This crisis cannot be solved by tweaks around the edges of the housing market. What we need is a return to proper funding for social housing, to the levels last seen under Churchill. Investing in housing is a win-win for the Government - it would bring down the housing benefit bill, provide everyone with a secure and stable start in life, and kick start an economic boom creating thousands of jobs.'
The Local Government Association (LGA) said the Government must give councils the powers and funding to build new social housing.
The LGA's housing spokesman, Cllr David Renard, said: 'By scrapping the housing borrowing cap, the Government showed it has heard our argument that councils must be part of the solution to our chronic housing shortage.
'It should now go further and devolve Right to Buy so that councils retain 100% of their receipts to reinvest in building new homes accompanied with the right infrastructure, and can set discounts locally.'