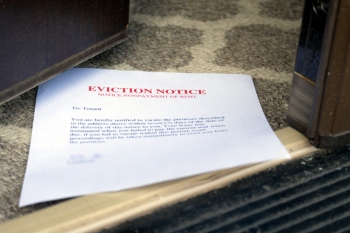 The housing charity Shelter has called on the Government to bring forward a bill that could ban 'no fault' evictions.
New findings by YouGov show 39% of private renters – equivalent to 3.2m people – say they have been forced to live in dangerous or unhealthy conditions because they fear complaining to their landlord will trigger a retaliatory eviction.
Currently, private landlords can evict tenants by serving a section 21 'no fault' eviction notice, where they don't have to give a reason.
According to YouGov's survey, almost half (46%) of private renters – equivalent to 3.8m people – whose homes have needed repairs or improvements said they have not tried to resolve these owing to fear of a 'no fault' eviction.
Shelter is urging the Prime Minister to deliver a Renters' Reform Bill that abolishes section 21 'no fault' evictions and creates a National Landlord Register, which would force landlords to prove properties meet essential safety standards.
Polly Neate, chief executive of Shelter, said: 'Our broken renting system is overdue serious reform. For years, renters have paid through the nose for neglected properties, left powerless and paralysed by the fear that complaining about basic repairs could see them out on the streets.
'Over the past year, our homes have been our first line of defence against coronavirus. Yet this pandemic has exposed the grim reality that too many of the country's 11 million renters - including key workers, families and the elderly - wake up every day to mould, pests and dangerous hazards.
'The Renters' Reform Bill offers us a once-in-a generation opportunity to transform private renting and create a fairer safer system for all renters - we must seize it with both hands.'