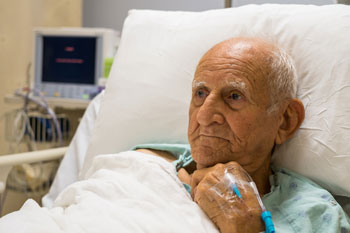 Council chiefs call for more adult social care funding as research reveals the number of hospital admissions due to an older person falling is set to rise dramatically.
New figures from the Local Government Association (LGA) have found that by the end of the decade nearly 1,000 older people a day will be admitted to hospital because of a fall.
The number of fall-related hospital admissions among older people has increased by 9% over four years, and is likely to rise to around 350,000 by 2020/21, the equivalent of approximately 950 cases every day.
According to the LGA's research, falls prevention programmes run by councils reduce the number of falls requiring hospital admission by nearly a third (29%) and produces a financial return on investment of more than £3 for every £1 spent.
Treating people who have fallen costs the NHS nearly £2bn and so measures that could prevent people falling would help ease the burden on the health service.
The LGA argues that the Government should give councils enough money to invest in measures that can help prevent falls. This would help ease the burden on the health service as well as being beneficial to older people and their families.
'Council-run fall prevention schemes, such as home assessment and modification programmes, have shown to significantly reduce the number of falls requiring hospital admission and to offer a good return on investment, saving money from the public purse,' said cllr Izzi Seccombe, chairman of the LGA's Community Wellbeing Board.
'But some councils are being forced to stop such fall prevention services due to funding reductions, which has seen spending on prevention work from adult social care budgets reduced by more than £60m in the past year.
'To reduce demand and cost pressures on the NHS, the Government needs to switch its focus from reducing delayed discharges from hospital to preventing admissions in the first place and put adult social care and the NHS on an equal footing.'
Errol Taylor, chief executive of the Royal Society for the Prevention of Accidents, commented: 'A fall can have a devastating effect on an older person, bringing physical consequences and associated loneliness, isolation and loss of independence.
'We also know that falls are putting a tremendous strain on health and social care services, and one that is set to rise unless co-ordinated action is taken.
'The good news is that falls are not an inevitable part of ageing.
'Prevention initiatives can bring results very quickly and we're pleased to be supporting local areas to develop strategic approaches to falls prevention across England.'