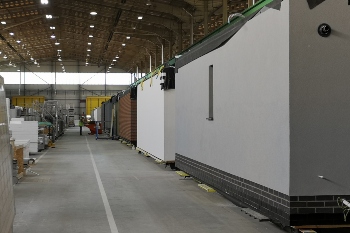 The UK's 15 largest housing associations have joined forces to call for 100,000 affordable new homes for key workers over the next five years.
The Homes for Heroes campaign wants to deliver 100,000 eco-friendly factory-built homes to repay the 'immeasurable debt of gratitude' owed to key workers.
It is calling on the Government to help fund the initiative alongside private investors and housing associations, using public land and new offsite manufacturing techniques.
The campaign argues this would also create thousands of high-skill manufacturing jobs and boost regional economies.
Helen Evans, chair of the G15 group of London's largest housing associations, and chief Executive of Network Homes, said: 'Essential workers on the frontline of this crisis are often among the lowest paid in society. Homes for Heroes is about giving these people a safe, secure and genuinely affordable home to live in.
'With the collaboration of government and the housing sector, both private and social, we can bring forward a once-in-a-generation number of new homes for our essential workers, including those not eligible for traditional key-worker housing.'