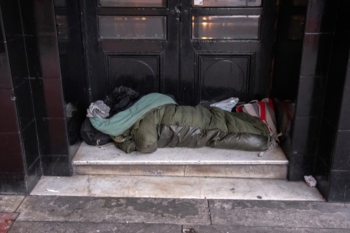 The number of homeless people in England could increase by a third by 2024, new research has warned today.
The research, by Heriot-Watt University for Crisis, warns the end of pandemic protections such as the eviction ban and universal credit uplift could lead to a sharp rise in the number of homeless people.
The vast majority of the councils surveyed (97%) said the end of the eviction ban will lead to an increase in homelessness, while 80% said cut to universal credit will have the same impact.
The Homelessness Monitor: England 2022 also found most councils believe Local Housing Allowance (LHA) rates and the benefit cap are likely to cause an increase in homelessness in their areas.
The research found 78% of councils were finding it harder to access private rented accommodation for homeless households in 2020/21 compared with 2019/20, with 57% saying it is harder to access social housing.
'The warning from these findings is clear, without action, more people will be forced to live without a place to call home,' said Matt Downie, chief executive at Crisis.
He added: 'The protections put in place during the pandemic helped thousands of people off the streets and prevented many more from facing homelessness. It would be shameful for this progress to unravel before us, at a huge human cost and financial one for the local councils left to foot the bill.'
The Local Government Association (LGA) is calling for a cross-departmental plan for homelessness prevention and financial resilience.
Cllr David Renard, housing spokesperson for the LGA, said: 'As part of this plan, we would support removing the freeze and reviewing Local Housing Allowance rates, alongside new protections through the Renters Reform Bill, to ensure the private rented sector is accessible and secure for families coming through homelessness services.'
A Department for Levelling Up, Housing and Communities spokesperson said: 'Government interventions have prevented almost 450,000 households from becoming homeless since 2017.
'This year, councils have been given an extra £65m to support low income households with rent arrears.'