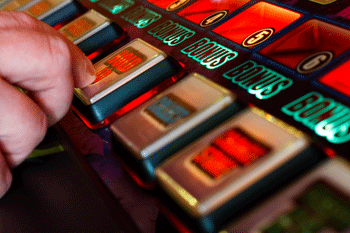 Councils have welcomed recommendations that the maximum stakes of fixed odds betting terminals (FOBTs) are dramatically reduced and powers granted to councils to regulate the gambling machines.
An All Party Parliamentary Group (APPG) review of FOBTs has urged the Government to reduce their maximum stakes from £100 to £2.
The APPG's report described the machines as 'both highly addictive and an anomaly in the regulatory framework' and accused the Gambling Commission of 'failing' to adequately advise the Government in recent years.
Commenting on the launch of the report, APPG chair Carolyn Harris MP said: 'There is now a clear case for the Government to substantially reduce the maximum stake which can be played on FOBTs.
'The time for prevaricating is over. These machines are easily accessed in the most deprived areas, sucking money out of the pockets of families.
'I support a responsible gambling industry, but there is nothing responsible about how FOBTs are currently being operated. I urge the Government to take action now.'
The Government should also address localism concerns, the report said. Local authorities should have greater control over FOBTs and the powers to prevent the clustering of betting shops.
The MPs took evidence from a number of different sources – academics, problem gamblers, the gambling minister Tracey Crouch – but bookmakers refused to take part in the inquiry.
Council chiefs welcomed the report and called on the Government to take 'swift action' on its recommendations.
'This cross-party review supports what we have been calling for and we urge Government to take swift action by lowering maximum stakes on FOBTs to £2 to protect vulnerable people from harm,' said Cllr Simon Blackburn, chair of the Local Government Association's (LGA) safer and stronger communities board.
'As well as leading to spiralling debt, problem gambling can impact on individuals and their families' physical, mental and emotional health and wellbeing as well as having a wider impact on society through crime and disorder.'
Cllr Blackburn also emphasised the importance of devolving power over betting to local authorities.
'With rates of problem gambling higher among those who live near clusters of bookmakers, it is essential that, as the report also recommends, councils are given powers to stop further clusters of betting shops on our high streets.
'Councils are not anti-bookies but a new cumulative impact test - which the LGA has previously called for and which government has introduced through the Police and Crime Act for alcohol licensing - would give them the power to veto new shops in areas already saturated by betting shops.'