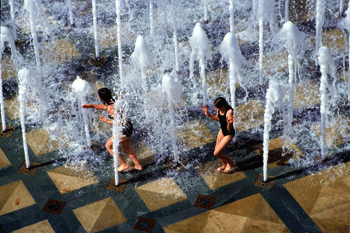 The struggling high street has become a mark of modern society, with much discussion on how to transform the retail prospects of provincial city centres.
Perhaps the solution might be to regenerate town centres by means other than retail, by creating genuine society hubs and providing a range of activities, other than purely exploring the shopping opportunities. Could this serve as the template for change, creating genuinely innovative spaces rather than identi-kit high streets that offer little out of the ordinary or unique?
Across the UK, councils are reviewing their urban plans to try and react to the change in community needs: Sheffield City Council recently indefinitely shelved plans for a large modern retail centre and discussions are now under way about what should take place its place.
Elizabeth Motley, head of architecture and urbanism for Integreat Plus, has been part of a parallel design summit with the Sheffield Society of Architects and is all too aware of the importance of urban spaces for the success of the city centre.
'As people spend more time working from home there will be an increased need to provide places to meet socially and these will doubtless be in town centres,' she says.
'There is a requirement to supply places and reasons for these people to come to the centre for activities aside from retail, for example, events and festivals.'
The architecture of the city is critical in setting the tone for this, redefining the use of the space and slowing down the pace of city life. Motley highlights Sheffield's regeneration: 'Before the Peace Gardens were built in 1999, Sheffield was losing out badly to Meadowhall.
The Peace Gardens brought people back to the city centre. This, alongside the cascading water fountain outside the station, gives the impression that people are welcome in the city.'
An emerging community has also been created in the wake of the Olympics at Queen Elizabeth II Olympic Park. This represents a challenge for planners and architects: to develop an inspirational new community base, which attracts residents and business. Retail is concentrated in the large Westfield shopping centre but next to this the Olympic Park itself has been transformed as a community base.
Jennette Emery-Wallis, landscape architect at LUC - which was successful in winning the competition to transform the former Olympic site working with erect architecture – says: 'We approach each site as a unique project which needs to be responded to individually; the character of the space is incredibly important.
'The history of the site is often a good starting point, as is consultation and work with stakeholders and informal design workshops.'
The result is a focus for new and emerging community life within North Park, a place to meet friends, hang out and play. The play space, together with the Timber Lodge café with its multi-use rentable space, act as a natural draw for existing and new residents to use as a base to explore the North Park and the wider community.
Now might be the time to embrace a similar approach to Urban Planning, with a stronger emphasis on non-retail than ever before. Emery-Wallis believes play could have a role.
'Play opportunities should be integral to the fabric of our cities, be they play streets, roof gardens, pocket parks, public open spaces etc,' she says.
'We have seen obesity levels rise significantly in children in the past decade, places to play and be active will become ever more vital in addressing the health needs of our children and young adults.'
However play tends to be directed at younger children or families, creating spaces that are perceived to address their specific needs.
Older children and teenagers suffer from a much-maligned public image and although they might congregate within urban areas, there is little provision for them.
In fact, it could be said there are many efforts to repel them, with groups such as skateboarders being thwarted by architectural choices selected to inhibit their use.
In the main, these steps would appear to be unwarranted: it is very easy to limit the damage the wheeled sports enthusiast inflicts on architectural features by making a better selection in the first place, rather than studding with metal spheres in a practice known as 'nobbing'.
Iain Borden, professor of architecture and urban culture at the Bartlett School of Architecture, UCL, has studied the use of architect-designed spaces beyond conception throughout his academic career and has a firm interest in those that are used or not used by skateboarders, being a skateboarder for the past 35 years himself.
'The perceived issues with skateboarders are often a fallacy,' Borden says. 'The architectural damage can easily and cheaply be avoided, and the notion that skateboarders will wildly career into old ladies, knocking them off their feet, is apocryphal.
'In 25 years of academic research I have never come across such an incident. Why is the perceived danger of skate boarders so much more than that of joggers, cyclists, children etc?'
So could skate be incorporated more into the fabric of urban planning and what affect would this have on the atmosphere of the city centre? Borden continues: 'When you think of a city, what makes it special is the combination of the predictable and the unpredictable.
'You want the buses to run on time, transport to be good, easy access and reliable retail, but you also want unpredictability. The best cities have an ongoing element of surprise, what will be around the next corner?
'Skate-boarding and wheeled sports satisfies that criterion, continually surprising, fun to watch – skate inherently adds vitality and dynamism to urban areas – just think of the South Bank.'
The next few years will be critical in establishing a new model for the city centre, one that will reverse the pattern of high streets dominated by the same old chains to hopefully create unique community hubs more fitting for the rich heritage of the city and the needs for the residents.
Urban planning holds several new challenges and the question will be how these are interpreted by pioneering architects seeking to bring about dynamic change.
Paul Collings is managing director at Timberplay.