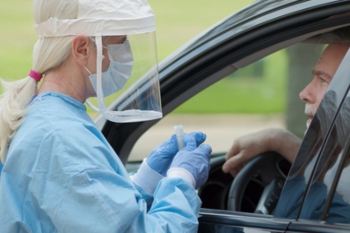 The Government has promised that 100,000 coronavirus tests will be carried out every day by the end of the month in England.
The new five-point plan will bring together government, industry, academia, and the NHS and many others, to dramatically increase the number of tests being carried out each day.
By mid April, 25,000 tests a day will be carried out in PHE labs and NHS hospitals for those with a medical need and the most critical workers.
The Government will also work with manufacturers to develop blood testing that reveals if people have the right antibodies to provide high levels of immunity to coronavirus.
Trade union Unison warned the Government should not 'overpromise' on what can be achieved.
General secretary Dave Prentis said: 'Testing is key in the fight against the virus. It's clear the UK isn't doing enough. We can't waste another minute.
'But the government must be realistic about what's possible and not overpromise. Delivering over the coming weeks will be crucial to how both frontline staff and the wider public view the government's ability to manage the crisis.'