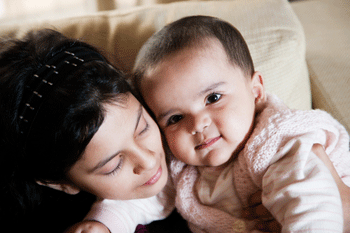 Nearly half of young carers feel responsible for giving their family a good Christmas, according to a new survey.
The charity Action for Children has published the results of a poll of 347 young carers under 18 which shows the pressure they are under during the holiday period.
It found that 47% feel responsible for giving their family a good Christmas and 44% have missed out on Christmas social activities in the past due to their caring duties.
One in five (21%) is looking after a loved one for longer than most people spend at work, as they care for 11 hours or more a day over the Christmas break.
This would mean these young carers spend the equivalent of 10 days out of their two-week holiday caring.
Around one in five young carers reported feeling stressed (20%) or lonely (19%).
'This time of year can be incredibly tough for young carers who are often isolated and missing out and at home cooking or cleaning instead of enjoying the festivities,' said Julie Bentley, chief executive at Action for Children.
'The services currently available just aren't enough to support the number of young carers4. The new government must introduce a National Childhood Strategy to help them have a safe and happy childhood.
'But until all vulnerable children get the support they need, we will be there for them. And that's why we're asking the public to get behind our Secret Santa campaign.'
Responding to the report, Cllr Judith Blake, chair of the Children and Young People Board said: 'Christmas is a tough time of year for many vulnerable children, including young carers who often face significant challenges.
'Councils across the country work hard to make sure they are able to access the support they need while continuing to enjoy their childhoods and fulfil their full potential.
'Every young carer has a right to an assessment to find out if they need additional support, and councils will do all they can to provide this support where needs are identified.
'However, councils need the support of all members of the community to help identify young carers to make sure that their needs can be assessed quickly, and the necessary support provided.
'Good relationships between councils, schools, the NHS and other organisations are crucial to making sure that children are referred as quickly as possible and get the support they need to help them live their lives to the fullest.'
'We fully support calls for a national strategy to help children have a safe and happy childhood,' she added.