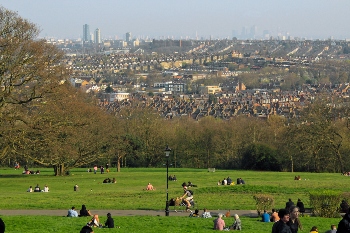 The amount of green space per person is lower in the areas that the Government is targeting as part of the levelling up agenda than it is in other parts of the country, a new study has revealed.
In their annual 'Green Space Index' report, the charity Fields in Trust found that local authorities in the Government's priority levelling-up areas have, on average, 10% less green space provision when benchmarked against the amount communities need to thrive.
It also found that 2.8 million people do not have a green space within a 10-minute walk of home and warned that the amount of green space per person in these priority levelling-up areas is set to decline by 2040 as population grows.
The unequal distribution and access to local parks is 'stark' and felt the most in those left behind neighbourhoods which are already missing out on the physical health, mental wellbeing and environmental impacts of local green space, the charity says.
Speaking at the Westminster launch of the charity's new analysis, Clive Betts MP, chair of the Department for Levelling Up, Housing and Communities (DLUHC) Parliamentary select committee and a trustee of the Fields in Trust charity said: 'The role of green infrastructure in planning and healthy place-making should be central to Government ambitions to rebalance geographic inequalities.
'Yet 2.8 million people already live more than a ten-minute walk from a public park, with levelling-up target areas having around 10% less green space than the average across Britain.'
Chair of Fields in Trust, Jo Barnett, said: 'We know that parks and green spaces play a vital role in people's health and wellbeing, yet the Green Space Index demonstrates uneven provision across Great Britain, and our most vulnerable communities are impacted negatively.
'Although the scale and interdependency across the levelling-up portfolio is intensely complex, parks and green spaces deliver impacts across the range of social policy agendas yet remain undervalued for the multiple benefits they contribute to our communities.
'The climate crisis adds a new impetus to protect urban green space and as our work in Liverpool shows local authorities are recognising the important part green space plays in our neighbourhoods, towns and cities and stepping-up to ensure it is future proofed.'