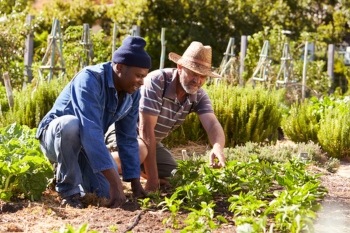 Funding has been awarded to 10 green social prescribing projects to help communities recover from COVID-19.
The money from the Thriving Communities Fund will help at least 7,500 people connect to nature for their health and wellbeing. Projects are being targeted at those most impacted by COVID-19 and health inequalities.
The projects will connect individuals with a link worker to help them access nature-based interventions and activities such as local runs, community gardening, conservation volunteering and green gyms.
James Sanderson, CEO of the National Academy for Social Prescribing, said: 'The COVID-19 pandemic has highlighted the importance of being outdoors to people's mental and physical health.
'Thriving Communities Fund projects focusing on green social prescribing will enable more people to be connected to green, outdoors and nature based activities through social prescribing link workers. We're delighted to see that the funded projects are already making progress to embed green social prescribing in local health care.'