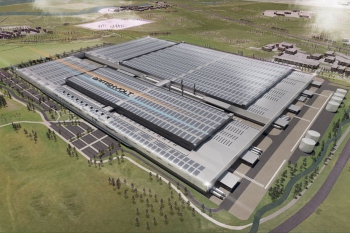 The UK's first battery gigaplant has been given planning permission by Northumberland County Council.
The council hailed the move a 'game changer' for the county, which will create nearly 3,000 jobs once built.
The facility will be developed on the former power station site in Cambois by Britishvolt and will have the capacity to produce 300,000 electric vehicle battery packs each year.
Council leader Glen Sanderson said: 'We're absolutely delighted this gigaplant has been granted planning permission. It's a real game changer for Northumberland.
'It's fantastic news - not just for the local area, but the wider county and the whole region. It's the biggest investment in living memory.
'We've a long and proud history of industry in this part of Northumberland and a factory and investment of this size will put this area firmly on the map once again for generations to come.'
The council said the gigaplant has a production capacity more than three times that of other recently announced schemes, all of which are only at early stages of design and planning.