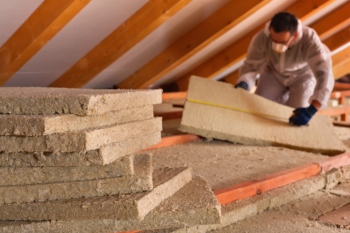 A new strategy to decarbonise the UK's housing stock could create up to 138,600 new jobs and boost the economy by £9.8bn by 2030, according to a new report.
The report from Greenpeace argues a 'green homes revolution' to insulate homes and swap gas boilers for low-carbon heating sources could deliver huge economic and social benefits.
The report assesses the impact of three housing decarbonisation scenarios including the Climate Change Committee's (CCC) central pathway that aims to install just over one million heat pumps per year by 2030 and upgrade all buildings to EPC C standards within the next 10-15 years. It compared this to the Government's current plan to install 600,000 heat pumps per year by 2028.
It found that while all scenarios would provide a significant boost to the economy, the greatest benefits would come from the more ambitious rollout of low-carbon heating technologies and energy efficiency.
Greenpeace UK's policy director, Doug Parr, said: 'The simple fact is, the government's current plan to decarbonise homes won't cut emissions enough to meet its own legally binding climate commitments or tackle the climate crisis.
'A more ambitious plan, which will sufficiently slash emissions from homes, could create many thousands of new jobs right across the country and pump billions into the economy. This should be music to the Prime Minister and chancellor's ears.'
Greenpeace is calling on the Government to include a package of grants, loans and tax incentives within its upcoming Heat and Buildings Strategy to deploy heat pumps more rapidly. It also wants a commitment to phase out new gas boiler installations by early in 2030, and a fully-funded programme to insulate homes.
Cllr David Renard, Local Government Association housing spokesperson, said: 'Our own analysis found that to achieve net zero by 2050, nearly 28 million homes will need to change how they use energy through methods such as heating systems that produce next to no greenhouse emissions. This will require local leadership where councils as democratic organisations can ensure that the benefits are felt by all.'