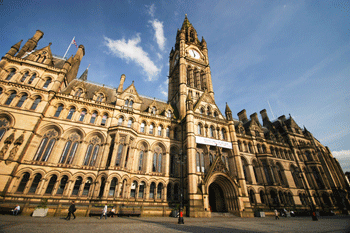 Control over a £6bn health and social care budget will be handed to local leaders in Greater Manchester from 2016, it is understood.
In what would be a national first, chancellor George Osborne is on Friday expected to announce a landmark devolution deal that would see NHS England handing significant powers over primary and secondary care to town hall bosses and health leaders.
Reports suggest the package will include control over total public health spending, social care, GP services, mental health and acute and community care.
A Greater Manchester Health and Wellbeing Board to be set up in April will coordinate closely with GP-led clinical commissioning groups (CCGs) before taking full budgetary powers the following year. Once the package is launched, these CCGs are expected to stay in place while working closer with council leaders.
The move builds on last year's £2bn Greater Manchester City Deal, which will hand powers over housing, planning and transport to regions councils alongside a new elected mayor to lead the Greater Manchester Combined Authority.
Osborne said: 'We're discussing a plan for bringing together the NHS and social care in Manchester so we provide better care for patients. This is exactly what we want to see more of in our health care. It's also about giving Greater Manchester more control over things run in Greater Manchester – which is what our vision of a Northern Powerhouse is all about.
'It's early days, but I think it's really exciting development. We'll be working hard now with Greater Manchester and NHS England on getting the details right so the arrangements work best for patients,' he added.
Lord Peter Smith, chair of the Greater Manchester Combined Authority, said: 'We are committed to working in partnership with our NHS colleagues throughout the city region to take this forward.
'By ensuring that decisions about health for Greater Manchester are taken in Greater Manchester, we can ensure we have a system specifically tailored to the needs of people in our area.'
Chief executive of NHS England, Simon Stevens, added: 'NHS England is working on this groundbreaking offer to the local NHS in Greater Manchester and elected local authorities because we want to back local leaders and communities who come together to improve the health and care of their residents and patients.'
Richard Humphries, assistant director of the King's Fund thinktank, told BBC Radio 4's Today programme that the transfer on powers represented reform 'on a breathtaking scale'.
However he added: 'you could either see this as a triumph for local democracy or creating real risks of yet another reorganisation of the NHS when it's barely recovered from the last one'.