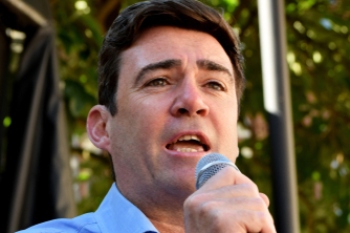 Mayor of Greater Manchester Andy Burnham has called on the Government to open negotiations with mayors and local leaders on the leaked 'three tiers' policy paper concerning COVID-19 restrictions.
The Government is considering imposing a new three-tier lockdown system in England which could include the closure of pubs and the stopping of all social contact outside of households, according to reports that have been leaked to the national media.
The 'Covid-19 Proposed Social Distancing Framework', which is dated 30 September and which has not been signed off by the Prime Minister, introduces a traffic-light-style plan on how to deal with rising COVID-19 infection rates as a way of simplifying the current patchwork of localised restrictions.
The most serious level of restrictions outlined in the plan – Alert Level Three – reportedly includes measures such as the closure of hospitality and leisure businesses and the banning of social contact outside your household in any setting.
Responding to the leaked plans, Mayor Burnham said that he believed the new approach would improve public understanding of the restrictions in different areas.
However, he said that it will not be acceptable if the policy is imposed by Whitehall without meaningful consultation with mayors and local leaders.
Warning that the North of England is facing 'one of the most difficult winters' it has ever experienced, Mayor Burnham said: 'I remain ready to work with the Government to build public support for its approach to local lockdowns, but that requires meaningful consultation and proper support for the areas affected. That is not happening at the moment.
'We have now reached a point where there is a real risk of the Government losing the public in the North because of the perceived unfairness of its local lockdown policies. We can't let that happen. There is still time to put in place better measures to protect communities across the North this winter but time is running out.'
The Mayor also set out five key conditions on which the new system will need to be based if it is to command public trust and support. These are:
Clear thresholds for entry/exit from the different tiers.
The ability for local areas in tiers two and three to request local control of the Test and Trace system, with resources transferring from the national system.
Agreed levels of extra financial support for councils in tiers two and three.
A package of support for local businesses affected by local restrictions.
A local furlough scheme where businesses are required to close.
A spokesperson for the Department of Health & Social Care said that the Government does not comment on leaks.
However, they added: 'We are seeing coronavirus cases rise at a rapid rate across the country and, given how serious this virus is, it is vital everyone plays their part by following the rule of six, washing their hands, practicing social distancing and wearing a mask in enclosed spaces.
'As we have shown, we are prepared to take action decisively when it is necessary, and it is of course right to look how we make sure everyone understands and complies with the restrictions that will keep us all safe.'
Photo: John B Hewitt / Shutterstock.com