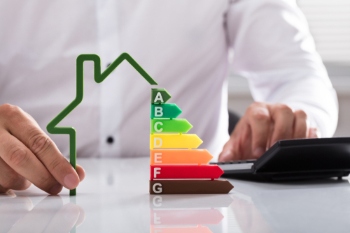 Leading figures in the UK housing sector have called on the Government to commit to spending £2.3bn a year for the next decade on raising the energy efficiency standards of 2.3 million homes across England.
The Building Back Britain Commission has published a new report which reveals the enormous challenge of decarbonising the UK's ageing housing stock.
The commission's report found that in the average English local authority area, 58% of homes are below an EPC rating C and the cost of getting all homes up to this standard is likely to be at least £200bn.
The report also found that for homes under the 'critical price threshold' of £162,000, making any energy efficiency improvements to the property – such as installing solar panels, heat pumps or cavity wall insulation – would be financially unviable due to the cost of the work exceeding the potential house price gain.
The problem is particularly acute in 'levelling up' areas, the commission found, with more than one third of homes in these local authority areas priced below £162,000 compared to less than one in 10 in non-levelling up areas.
The research, which was carried out by two former Government economists, identifies 2.3 million homes across England which are valued under £162,000, have an EPC rating below C and are located in 'levelling up' areas.
The commission argues that the Government should invest £2.3bn a year for the next decade in order to make these houses more energy efficient.
Terrie Alafat, chair of The Riverside Group and chair of the Building Back Britain Commission, said: 'Government needs to get serious about tackling the cost of living crisis with radical action to improve the energy efficiency of millions of our homes.
'That's why the Building Back Britain Commission is calling on Government to commit to funding a retrofit revolution, alongside further action to ensure the highest possible standards in our future homes. Without this, Government will always be fighting a losing battle on both net zero and energy bills. But by working with industry and following the steps that we suggest, it could yet have a win-win.
'In the long-term, taking decisive action now to make our homes more energy efficient will enable the UK to make much-needed strides forwards on the path towards net zero. In the short-term, it will also mean lower fuel bills for millions of people who are suffering as a result of the energy crisis and urgently need help with the cost of living.'