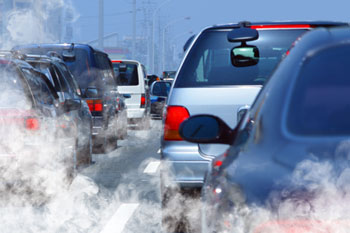 The mayor of London has welcomed a High Court ruling that found the Government has broken the law by failing to tackle illegal levels of air pollution.
In a case brought by activist law group ClientEarth, Mr Justice Garnham said the Environment Secretary had failed to take measures that would bring the UK into compliance with the law 'as soon as possible'.
Sadiq Khan described the ruling as a 'wake-up call' to Government to take effective action to improve air quality in London and around the country.
It is estimated that 9,400 deaths occur each year in London due to illnesses caused by long-term exposure to air pollution, while 448 schools in London are in areas exceeding legal air quality levels.
'Today's High Court ruling brings sharply into focus the scale of the country's air pollution crisis and lays the blame at the door of the Government for its complacency in failing to tackle the problem quickly and credibly,' the mayor said.
'In so doing they have let down millions of people the length and breadth of the country.'
'This must now act as a real wake-up call to Government to finally get to grips with this national health emergency that is causing 9,400 deaths every year just in London alone.
'Serious action by the Government is long overdue and if we had been given the tools to tackle this head-on in the first place we would have been on the road to compliance much sooner.'
ClientEarth CEO James Thornton said: 'The time for legal action is over. This is an urgent public health crisis over which the Prime Minister must take personal control.
'I challenge Theresa May to take immediate action now to deal with illegal levels of pollution and prevent tens of thousands of additional early deaths in the UK.
'The High Court has ruled that more urgent action must be taken. Britain is watching and waiting, Prime Minister.'