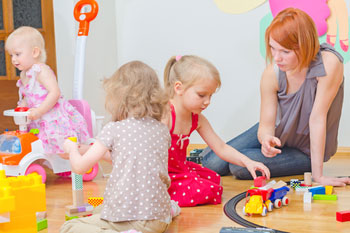 The education secretary today announced a £50m grant will be made available to support the delivery of the Government's 30 hours free childcare offer.
The Government is committed to doubling its free childcare offer to 30 hours per week for working parents of three- and four-year-olds.
However, critics have described past funding plans for the policy as falling 'woefully short' of what is necessary. The new grant is designed to address this shortfall.
Justine Greening said Whitehall has confirmed a list of successful projects benefitting from the grant. Almost 200 nurseries and pre-schools will receive a share of the funding.
It is projected that almost 9,000 free places for eligible pupils will be created, saving parents around £5,000 per year when it is rolled out next September.
The education secretary also added £2m of the new grant will go to six 'opportunity areas' she has identified as social mobility 'coldspots'.
'We want Britain to be a country that works for everyone, not just the privileged few,' Ms Greening said.
'That means removing the barriers facing parents who are struggling to balance their jobs with the cost of childcare, and spreading the opportunities available to hard-working families across the country.'
Labour's shadow early years minister Tulip Siddiq criticised the funding proposals on Twitter as 'not enough to plug the gap.'
Finally government recognises urgent need for more childcare places - but this money is not enough to plug the gap https://t.co/grCKJSL7Qf

— Tulip Siddiq (@TulipSiddiq) January 10, 2017