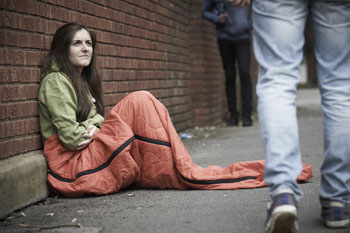 The Government today announced a multi-million-pound funding package which will be allocated to local authorities according to the level of homelessness in their area.
The £316m Homelessness Prevention Grant for the 2022-23 financial year will support households in England who are homeless or at risk of losing their home.
Councils will use the funding to help them find a new home, access support for unexpected evictions and secure temporary accommodation where needed.
The funding includes an additional £5.8m on the 2021-22 allocation to support people forced into homelessness by domestic abuse.
'I have seen first-hand the devastation of those who come face to face with homelessness, and my heart goes out to anyone in this situation,' said the minister for rough sleeping, Eddie Hughes MP.
'The support we are announcing today is going directly to communities that need it most.
'It will help thousands of people across England, with councils able to prevent homelessness before it occurs and put a roof over the heads of those who have lost their homes.'
Commenting on the announcement, Jon Sparkes, chief executive of the homelessness charity Crisis, said: 'To end homelessness we need to prevent people being forced from their homes in the first place, so this funding for vital local authority services is very welcome.
'With the appalling rise in domestic abuse during lockdowns and the pandemic forcing many more into homelessness, it is especially important that councils in England will have more money to provide accommodation for survivors.'
The announcement of the grant allocation follows a letter sent by Mr Hughes to local authorities detailing out their role in finding appropriate accommodation and boosting vaccination rates. This will be supported by a £25m funding package.