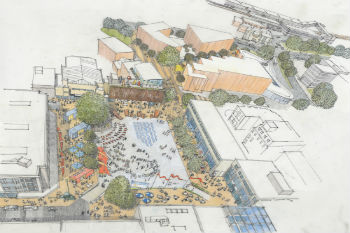 Gloucester City Council has launched a consultation on a £50m regeneration scheme designed to provide support to the city's creative industries.
The plans for revamping Kings Quarter involve a complete transformation of Kings Square, including space for events and performances, new offices and apartments, a hotel and a creative business hub.
The scheme will provide over 2500m2 of commercial space and 400 new parking spaces, including 23 disabled spaces. There will also be nearly 2000m2 of creative workspace as well as space for a new hotel.
Over 4000m2 of new office space will be built and up to 140 new one, two and three bed homes will be developed.
'I hope the public will agree that these are bold and ambitious plans that will transform a currently run-down area of the city centre as well as giving a much better arrival point for those travelling by bus and train, providing a vastly improved first impression of Gloucester,' said Cllr Paul James, leader of Gloucester CC.
'The City Council took back control of this scheme to take it forward so we no longer were relying on others.
'We decided to move away from a retail-led scheme to more of a mixed-used gateway scheme that will help to strengthen the core of the city centre by bringing in new uses. Events have proved this was the right approach.
'I am particularly excited that we are finally going to deliver a refurbished Kings Square after so many years of waiting. I know it is something people in Gloucester really want to see happen.'