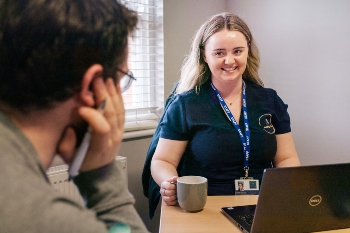 The social care sector needs more people. According to the latest Skill for Care research, there are 165,000 empty posts at the moment. That is 52% higher than in 2022.
By 2035, social care will need an extra 480,000 people as communities' demand for services, especially among the elder generations, grows.
The sector seriously needs an answer before our existing professionals get pushed beyond the limit. One place it could find this answer is in the potential of Generation Z - but, a few methods have to be shaken up first in order to attract this generation.
Gen Z to the rescue
Social care has typically been a sector that attracts older people to the workforce. In Workforce Intelligence's industry report, it revealed that the average age of the workforce was 45, with 28% of workers aged 55 or over.
This could be because much of the work is in contact with elderly people, and sadly our society tends to 'hide' and 'other' older generations, which in turn creates a social divide. That, coupled with the lack of financial benefits and clear career progression, create limited appeal for social care as an exciting, fast-paced sector.
However over the past decade, younger generations have become increasingly more conscious of their purpose in society. While previous generations, including baby boomers and Gen X, may have focused more on financial reward and social benefits, Generation Z and Millennials care more about the work itself – who is it helping? How am I contributing? Is it effective?
A recent Deloitte survey revealed that over a third of 16-44 year-olds considered an organisation's purpose before applying for a job (compared to only 21% of 55-64 year-olds.)
With this shift, social care could appeal more to Generation Z than other sectors that have previously attracted that slice of the active workforce. In fact, more than 90% of care professionals still feel inspired to care. Why? Because it's a profession with a very clear, and understandable purpose: to help people who need it. And that's something that anybody can buy into.
By 2025, Generation Z will make up 27% of the UK's workforce, so appealing to this demographic could be crucial to the sector's survival.
However, working for a social cause alone isn't enough. The sector needs to offer more than the opportunity to care for people. Repositioning the role of a care professional to one that is supported by technology, and has a clear career pathway, could help frame the sector's social cause in a way that appeals to Generation Z.
Training, professional development and technology
Generation Z wants to find its purpose in society. But people in that generation want a few other things too, including the opportunity to develop themselves and their careers.
Recent LinkedIn research showed that, more than any other generation, by at least 21%, this generation is seeking opportunities to learn new skills. This compared to a much smaller difference when asked about compensation and salaries.
This presents a fantastic opportunity for the social care sector, which is undergoing the beginning of a technological revolution at the moment. If care providers can offer more educational opportunities to younger workers, involving the use of technologies like care management software or AI, it could help to attract more of them to its workforce. This would help to address its recruitment pains, which are draining funds from the sector at a time when it desperately needs to conserve them.
In fact, we've seen at first hand how this allure of technology makes a difference in the sector. Meg, a Gen Z care professional from Helping at Home, recently told our team that she uses technology "everyday in social and school life, and have done so for as long as I can remember." The fact that the care agency she works for made the decision to use "really up-to-date technology, like an app and cloud-based rostering tools, definitely made the decision to join and stay with them easier."
She also added that "it felt reassuring - like they were taking my work seriously", and concluded that "the whole social care sector should prioritise using good technology systems if they want to appeal to my generation."
This is a positive generational shift. The knock-on effect of embracing technology would be that care professionals like Meg could deliver better care that can restore people's confidence in the ageing journey. Digital technology is already helping them do so on multiple fronts, by enabling a faster, more personalised delivery of care through the use of data. Simultaneously, care professionals are progressively upskilling their expertise, easily delivering quality care and focusing on care recipients' preferences, health and wellbeing.
As such, skilled and motivated young workers could introduce a new era for social care in the UK – an era where personalised care is facilitated via an engaged community of skilled professionals empowered by technology.
Unlocking business expansion
There's another more business-oriented benefit to offering professional development opportunities to Generation Z. As care providers upskill their workforce, they can start to offer advanced, more complex care services that can unlock business expansion opportunities with improved margin. This, in turn, could allow businesses to establish better relationships with a wider variety of care recipients. Yet, having trained employees that understand, and can deliver, different types of care is essential in accessing these opportunities.
The care sector must address its recruitment problem somehow. Appealing to the younger generations, including Gen Z, with attractive professional development opportunities could help it fill in that shortfall in staff. This way, care providers will be able to provide a better service to elderly people in the UK, all while investing in the success of their own businesses.
Rajiv Tanna is co-founder and CPO of birdie.