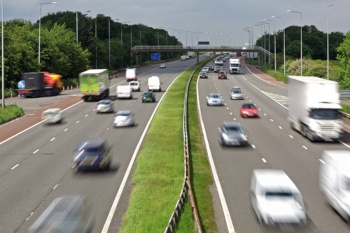 MPs have backed a move towards road pricing to avert a £35bn black hole in the public finances.
In a new report, the Transport Select Committee said a road pricing system based on miles travelled and vehicle type would enable the Government to maintain the existing link between motoring taxation and road usage.
The Committee warned that 'it has not seen a viable alternative to a road charging system based on technology which measures road use'.
MPs said revenue from motoring taxation will decrease as sales of electric vehicles increase and urged ministers to act now. They said the Treasury and the Department for Transport should set up an arm's length body to examine solutions and recommend a new road charging mechanism by the end of 2022.
The report argued that while drivers of electric vehicles should pay to use the road network, there should still be incentives to purchase vehicles with cleaner emissions.
Committee chair Huw Merriman said: 'It's time for an honest conversation on motoring taxes. The Government's plans to reach net zero by 2050 are ambitious. Zero emission vehicles are part of that plan. However, the resulting loss of two major sources of motor taxation will leave a £35bn black hole in finances unless the Government acts now.'
The committee said the Government should ensure that any new charging mechanism:
entirely replaces fuel duty and vehicle excise duty rather than being added;
is revenue neutral with most motorists paying the same or less than they do currently;
considers the impact on vulnerable groups and those in the most rural areas;
does not undermine progress towards targets on increased active travel and public transport modal shift; and
ensures that any data capture is subject to rigorous governance and oversight and protects privacy.
This article first appeared on Highways Magazine.