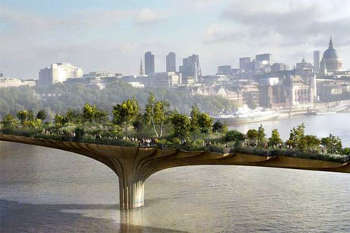 Plans to build a Garden Bridge over the Thames have been officially terminated due to what the charity behind the scheme describe as a lack of mayoral support.
The Garden Bridge Trust, the charity established to build and run the proposed Garden Bridge in central London, yesterday announced they would be 'winding up the project'.
In a statement, the trust said they had 'no choice but to take this decision because of lack of support for the project going forward from the mayor.'
Last April, Mayor Sadiq Khan wrote to Lord Mervyn Davies, chairman of the Garden Bridge Trust, stating that he was not prepared to sign the guarantee for the annual maintenance costs of the Bridge, a condition of planning consent.
In response, Lord Davies has written to the mayor expressing his regret.
'It is with great regret that Trustees have concluded that without Mayoral support the project cannot be delivered,' he wrote.
'We are incredibly sad that we have not been able to make the dream of the Garden Bridge a reality and that the Mayor does not feel able to continue with the support he initially gave us.'
Lord Davies noted the Trust had satisfied most of their planning conditions and had raised £70m of private money towards the project.
An independent review into the project was carried out by Dame Margaret Hodge MP between October 2016 and April 2017 and concluded that it was hard to 'justify further public investment' into the bridge.
'The project has already used £37.4m of public money and the agreement to underwrite cancellation costs by the Government could bring the bill to the taxpayer up to £46.4m,' Dame Hodge wrote.
'I believe it is better for the taxpayer to accept the loss than to risk the additional demands if the project proceeds. In the present climate, with continuing pressures on public spending, it is difficult to justify further public investment in the Garden Bridge.'
At the time of the review, Mr Khan said: 'I'm clear that since the beginning of the project there hasn't been the necessary standard of transparency and openness around the Garden Bridge.
'Nearly £40m of public money has already been spent on the Garden Bridge project, and Londoners deserve far more information about the decisions that have been made around how their money is being spent.'