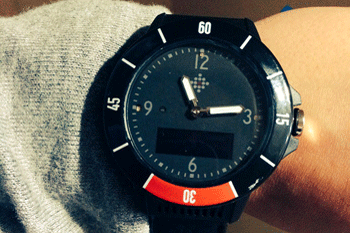 A 'groundbreaking' GPS watch pilot has been launched to support dementia sufferers in Kent, helping residents stay safe and retain their independence.
Medway Council has teamed up with Kent Police to launch a three-month trial of the technology, which sends messages back to the local authority's control centre detailing the location of local people affected by the degenerative disease.
The hub can be alerted to a situation if the watch-wearer presses the SOS button for help, does not return home or goes outside a pre-determined area set by family members or guardians.
Relatives or the emergency services can also be contacted if the watch highlights that the individual is at risk.
After the pilot, the GPS watch will be available in the same way to other local telecare service devices.
Medway Council's director for regeneration, community and culture, Robin Cooper, said: 'We are pleased to be embarking on this pilot scheme with Kent Police, which is set to help people with dementia to maintain their independence and give their families peace of mind that there will always be someone on hand in our control centre in Strood to alert them, or the emergency services, if there is concern.'
Superintendent Lee Russell of Kent Police said: 'The force is very pleased to be supporting Medway Council in the dementia watch pilot.
'Dementia touches the lives of many people and we want to do all we can to ensure those living with dementia can have a full life while still being afforded support by services designed to protect the most vulnerable members of our communities.'